One of my mom's great-aunts passed away recently, and she wanted to go to Florida for the memorial service. The kids and I jumped at the chance to take a road trip and see our family, so my mom took a couple more days off work to help turn it into a little vacation.
We spent the first two nights in a little guest condo at Good Samaritan Retirement Village, in Kissimmee, which is where we attended my Grandma's memorial service last year. A retirement village full of golf carts and double-wide mobile homes and a sprawling nursing home may seem like a strange spot for a vacation, but both sets of my grandparents logged years living there, and the place is brimming with memories.
I miss all four of them so much, and it feels like one small way I can share them with my children, who never had the privilege of knowing their great-grandparents well. We rented a golf cart for the two days, which the kids loved, and I showed them once again the different places my grandparents and their siblings lived, the bedroom I slept in when visiting my mom's parents as a kid. We told them stories that they've heard lots of times.
Life slows down traveling around in a golf cart and we loved moss-hung trees and the cranes and ducks and turtles, the tropical flowers so bright they almost hurt your eyes. Even the daily rolling summer thunder storms felt cozy.
I sat through the memorial service for a great-aunt that I did not know well, but who's part of my big family. I was reminded that God's faithfulness to me has extended generations before I was born. It's a gift that my four children are swept up into that story, and I felt my heart welling up with gratitude for the love that is all around us.
We ate lunch with my mom's sister and her husband who drove up from Tampa for the service, and enjoyed catching up with them.
On Friday we drove to meet family at Disney Springs. It's an outdoor shopping center that's part of Disney but doesn't charge admission. We packed a lunch to eat in the parking garage, and spent several hours roaming around. There are so many fun things for kids to do . . . if you're in Orlando, I highly recommend it.
Our kids haven't been to Disney World and we have no plans to take them any time soon (we're currently saving our money for a trip to the Grand Canyon). The only time this bothers them is when they hear of friends going, but for the most part they don't seem to mind. They loved the huge Lego store at Disney Springs, the Disney Store, free samples at Ghirardelli Chocolate.
There's also a couple of splash pads and a Dino Dig.
We planned to buy ice cream there, but when a huge rainstorm hit, we opted to head for our cars and find a less expensive ice cream place in Orlando. I love how we're all on the same page with saving money!
We spent the next two nights in Orlando. The three youngest kids and I stayed at my Uncle Ralph and Aunt Valerie's house, and Judah spent one night with his cousins, Tristan and Gavin, and one night with my mom at my Uncle Ken and Aunt Susan's house a few miles away.
David told me later, "One thing I love about your family is that when anyone comes to town, they drop everything and are ready to celebrate!"
It's true. They always make us feel special. We all gathered for burgers at Uncle Ralph's the first night, and taco's at Uncle Ken's the second night.
Judah said, "Mom, I love when we have memorial services and weddings because it's so much fun getting to see our family."
My whole big extended family isn't perfect and would never ever claim to be, but they are a gift. It makes my heart happy to see my children recognize that gift and get to know their second-cousins and great-aunts and uncles.
They did lots of swimming in Uncle Ralph's pool and Zach and Allison's neighborhood pool. They played Settlers of Catan and Mexican Train and caught lizards. They adored Uncle Ralph and Aunt Valerie's golden retrievers, Sam and Sophie, and fed turtles in the pond.
I chatted with my aunts and uncles and cousins and drank lots of decaf coffee. When we got home I was definitely in need of introvert time, but it was well worth it!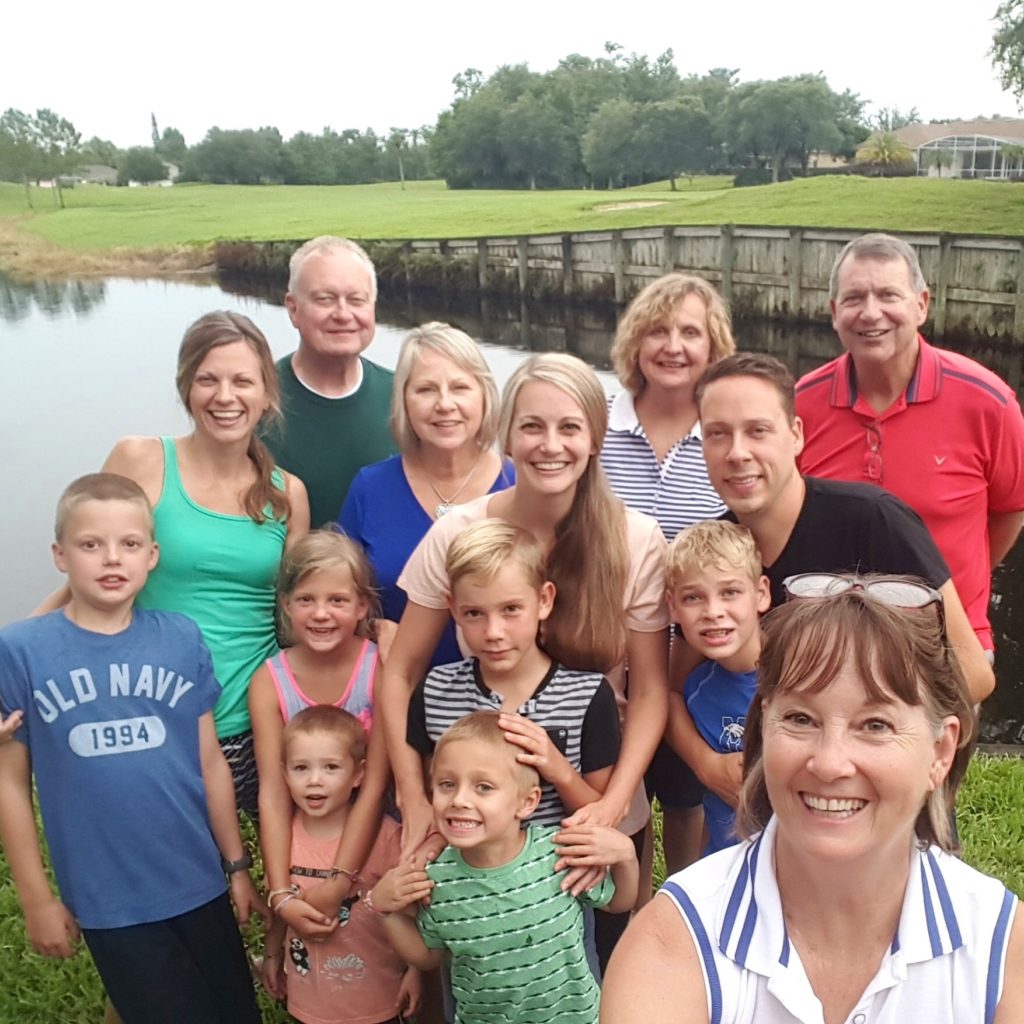 Thanks to my Mom for making the trek with a van full of kiddos and helping me make it a really fun week. We brought a small bin of toys and books, but also stocked up twice at the Dollar store, for sticker books and coloring books and marbles (marbles=endless entertainment for little boys).
On a long trip David and I let the kids watch one movie, usually something we find at Redbox, and then we have them play or read books, and we listen to lots of music. On this trip we listened to all of the Wonderful Wizard of Oz on audiobook, which was a delight. Amelie said, "Mom! This is my new favorite story!" Anne Hathaway narrated and was incredible.
We packed grocery store snacks and fruit, and stopped for treats at Starbucks and Dunkin' Donuts.
And my sweet husband hired our former house-cleaner to deep clean our house while I was gone (which I still hadn't gotten around to doing after the addition). It was lovely to walk into a clean house at the end of it all.
I'm a person who has always loved travel, but I spent a long two years after adopting the boys where travel of any kind felt sort of like torture. It's very fun to begin to discover that part of myself once again — where a road trip feels like an adventure.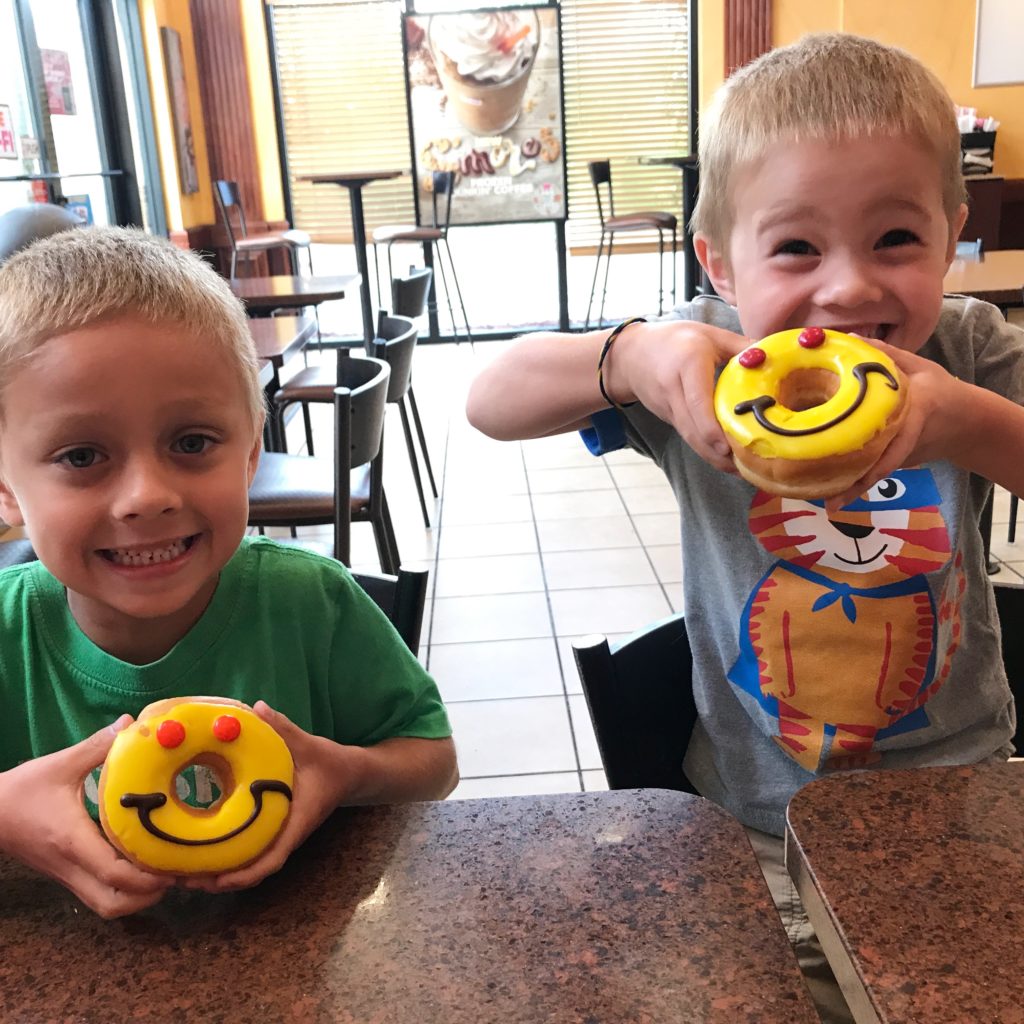 Save
Save