Hello fellow readers!
It's my afternoon out, and after a couple of errands, I'm sitting in a new Columbia coffee shop, The Wired Goat, sipping a lavendar vanilla latte and nibbling on a gluten-free cranberry cookie. Life is good. And I'm ready for the first Bookshelf post of the year. Actually I'll confess that I'm exactly the sort of nerd who has been looking forward to writing this post all week.
But before giving a list of recommendations for your cozy winter reading, I've been doing a little consulting of my 2015 Reading List. This was the first year ever that I kept a running list of all the books I read, and I'm so happy I did. It's amazing what I would have forgotten otherwise, and honestly I could never have told you how many books I typically read in a year (50? 75?).
In all, I finished 69 books last year. I'm not quite sure how many books I started and didn't finish, because I didn't begin noting them until towards the end of the year. I included chapter books I read to my kids for school, of which there were six.
Sixteen titles of my list were re-reads, and if that seems like a lot, remember that I read the entire Mitford series each year, which accounts for about half of the rereads, and some I reread for book club. Actually I find it funny to realize I was reading At Home in Mitford in January, 2015, and also in January 2016.
I won't list all 69 books for you here since I've shared the highlights in my Bookshelf posts this year, which you can find in the blog sidebar, but a few observations from glancing over my list.
1. I stuck mainly to fiction. Just 19 of the books I read were nonfiction, and many of those were adoption-related books.
2. I read classics with Judah and Amie, but the only adult classic I read this year was a reread: A Tree Grows in Brooklyn, by Betty Smith, which is one of my all-time favorite books. Just one classic a year is not okay, because the classics are my passion.
3. My biggest source for reading ideas came from Modern Mrs. Darcy, a blog I love. My second source was browsing the library shelves, and other books came from various blogs and recommendations from friends. Here's another idea for finding books: type a title you like into Amazon, and you'll get a list of "Customers who bought this item also bought." I do that often for children's picture book ideas too.
4. My primary reasons for leaving books unfinished are a.) Just plain bad writing, and b.) Too much graphic sex/violence/abuse. I'm okay with some language and graphic content if it's not gratuitous, and if I feel like the larger point of the book is good and worthwhile, but if there are a whole lot of unnecessary scenes, I won't finish or recommend a book. I just have no patience for that sort of thing when there's so much excellent writing out there.
5. I noticed in my list this year a strong inclination toward feel-good novels, and truly this is the reason I was able to read 69 books. Light reading always makes for faster reading. What happened to me? In my teens and twenties I loved a dark, brooding, realistic novel or memoir. I adored the Russians! John Steinbeck! Ayn Rand! Alexandra Fuller! After quite a few purges and one cross-country move, many of their books still grace my bookshelves.
I heartily believe that books make us both more compassionate and grateful, that everyone should read about people very different from them, from different backgrounds and with different struggles, and, ideally, then begin interacting in real life with those sorts of people. Not as a project, but as a human being who matters. Perhaps in some cases, even, as a friend. I believe, with Atticus Finch, that walking in another's shoes makes us more humble and helps us love better.
And yet, look at me now, flirting with the line of "chick lit," and reading Mitford every year. I will defend Mitford to my dying day, but even I have to admit it's not quite true-to-life.
What I've concluded is this: in my thirties, after a stint in India and adoption and getting to know a whole bunch of different kinds of people, I know of enough sadness in my real life, that sometimes I can hardly bear it in books. I read something and think of someone I know who has been through it — or a similar experience — and I feel crushed under the sorrow of those words.
It's not right to abandon hard books just because they don't have neat, happy endings. As a reader, I shouldn't insulate myself from things that make me uncomfortable. But here I am and I've decided not to feel guilty about it. Sometimes I just need books to be a comfort. Sometimes, during our long adoption year, they were an escape.
I still want to be made compassionate by stories. I want to stretch deeper, not just live in a fairy tale of words where everything works out in this lifetime and the girl gets the man of her dreams. I plan to include some hard books in my 2016 list. But I will make sure to space those stories out a bit, temper them with something comforting and happy.
What do you think about all this? How do you stretch yourself to read the hard books without being devastated by them? I'd like to know.
6. I want to undertake some sort of reading challenge in 2016!
I'd like to read more classics, for one. I had the idea of reading the works of the three Bronte sisters. Has anyone done this? Then again those ladies can be terribly dark and depressing, and I'm not sure I can handle that right now (see above point).
Either way, I'm going to accept Modern Mrs. Darcy's 2016 Reading Challenge. Anyone want to join me? The categories are listed below; I haven't made my selections for each one yet, but I'll be sure to include them in my bookshelf posts this year. It'll be fun!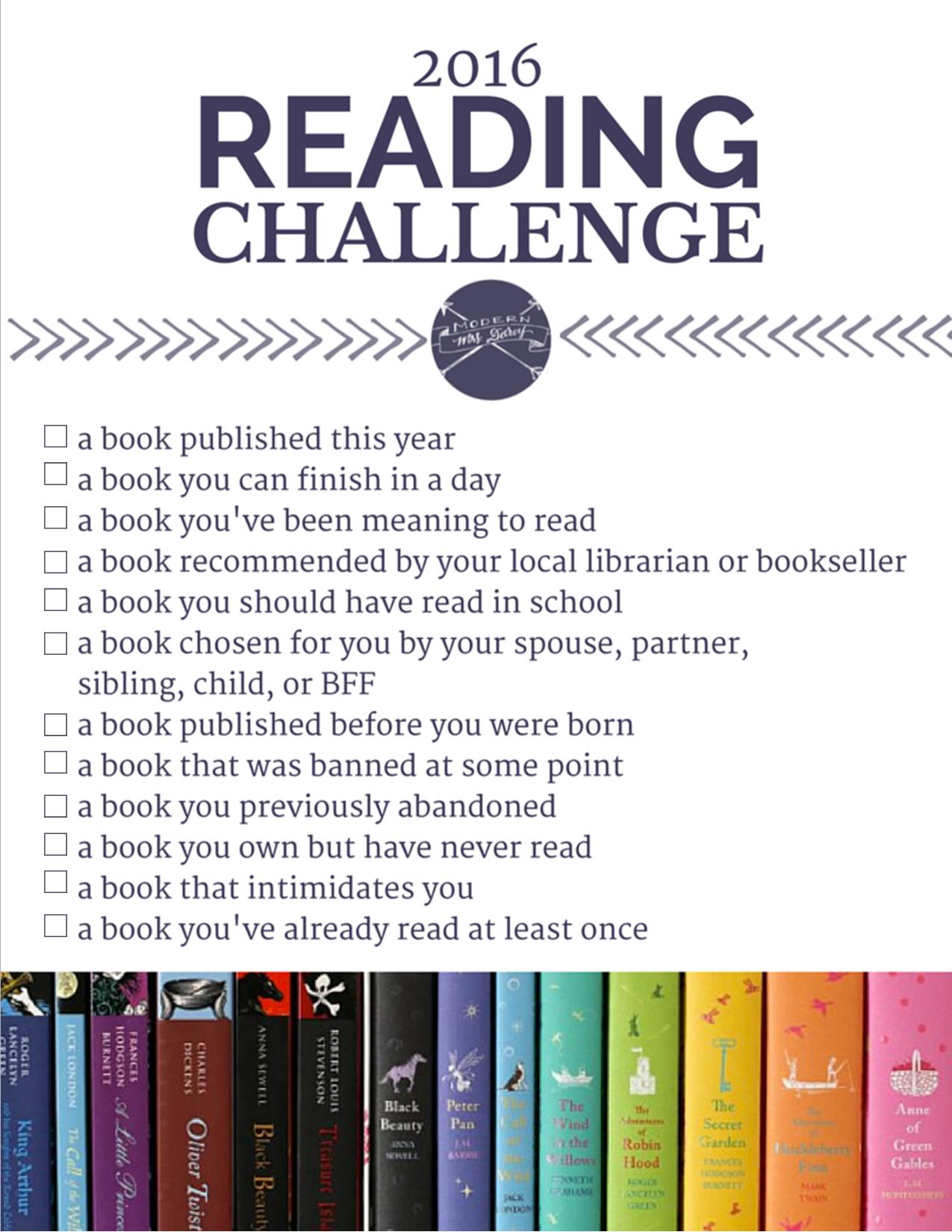 (Source: Modern Mrs. Darcy)
7. Finally, I leave you with my top three favorite books of 2015:
Peace Like a River, Leif Enger
Half-Broke Horses, Jeanette Walls
Purple Hibiscus, Chimamanda Ngozi Adichie
Next up on the blog, a Winter Bookshelf list for you!