Yesterday we celebrated our seven-month anniversary with the boys by going to court to finalize our adoption.
We've been in touch with our lawyer through the different steps of our legal process in these last months, and we knew that our hearing was coming up. We prayed all along for it to happen by Christmas, but were squeezed in at the last minute this week! David cleared his work schedule yesterday, and we all woke up early, got dressed, and took our Cheerios and coffee to go in the van for the hour-and-a-half road trip.
Poor Amie had been sick with a fever for three days, and we hated to drag her out of bed, but this was a once-in-a-lifetime experience, so we gave her ibuprofen and bundled her up along with her blankie and stuffed animals. Her DVD of choice for the car ride was Monsters University, a favorite with all four kids.We explained to them the night before that this was a ceremony to celebrate the six of us being a family forever, and told them we would have to be very quiet in the courtroom!
When we arrived at the Family Court building, we walked through the metal detector, which the kids thought was very cool, then sat with our attorney in this tiny room and signed a few papers, and waited.
Our names were called and we filed into courtroom number 6, and the hearing began. Our attorney gave the details of our case, David and I were each called up to the witness stand and sworn in and asked a few questions, and at the end of it the judge granted our adoption! That was it! The whole thing took about 15 minutes, and after seven long months of waiting it felt almost anticlimactic.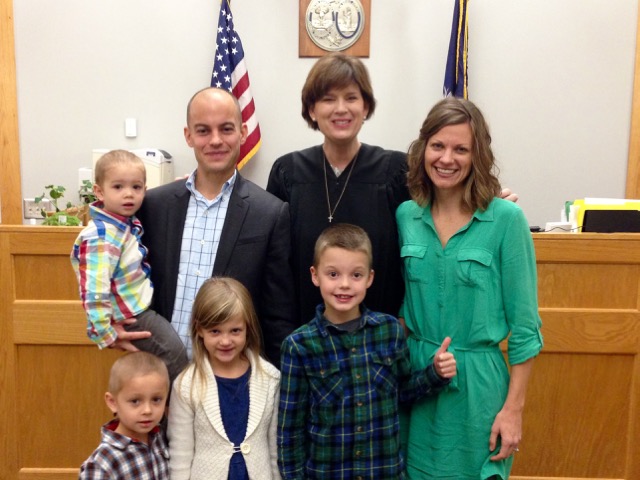 But there were big smiles all around. I think it was all lost on Gabe and Noah, which is just as well. In our hearts and words they are not any more "ours" now that we have finalized, but it is still a wonderful, important milestone to mark. We celebrated with a mid-morning snack at a downtown coffee shop, then hit the road and were home by 12:30. All of it felt a bit surreal.
I can hardly believe that it's over, just like that.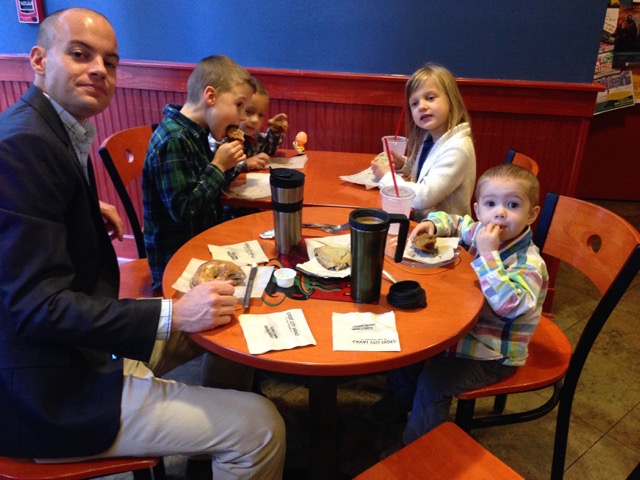 We had a little family party with cake and ice-cream yesterday afternoon. I overheard Judah telling Gabriel beforehand, "You know who this party is for? You and Noah! Because you're going to be in our family forever!" And Gabe said, "Yeah!"
Today I've felt the adrenaline drain out of me as we close this very big chapter in our family story. In its place is a feeling of deep relief. I'm so glad it happened when it did, what a beautiful way to enter this holiday season. A new beginning.
We are thankful.