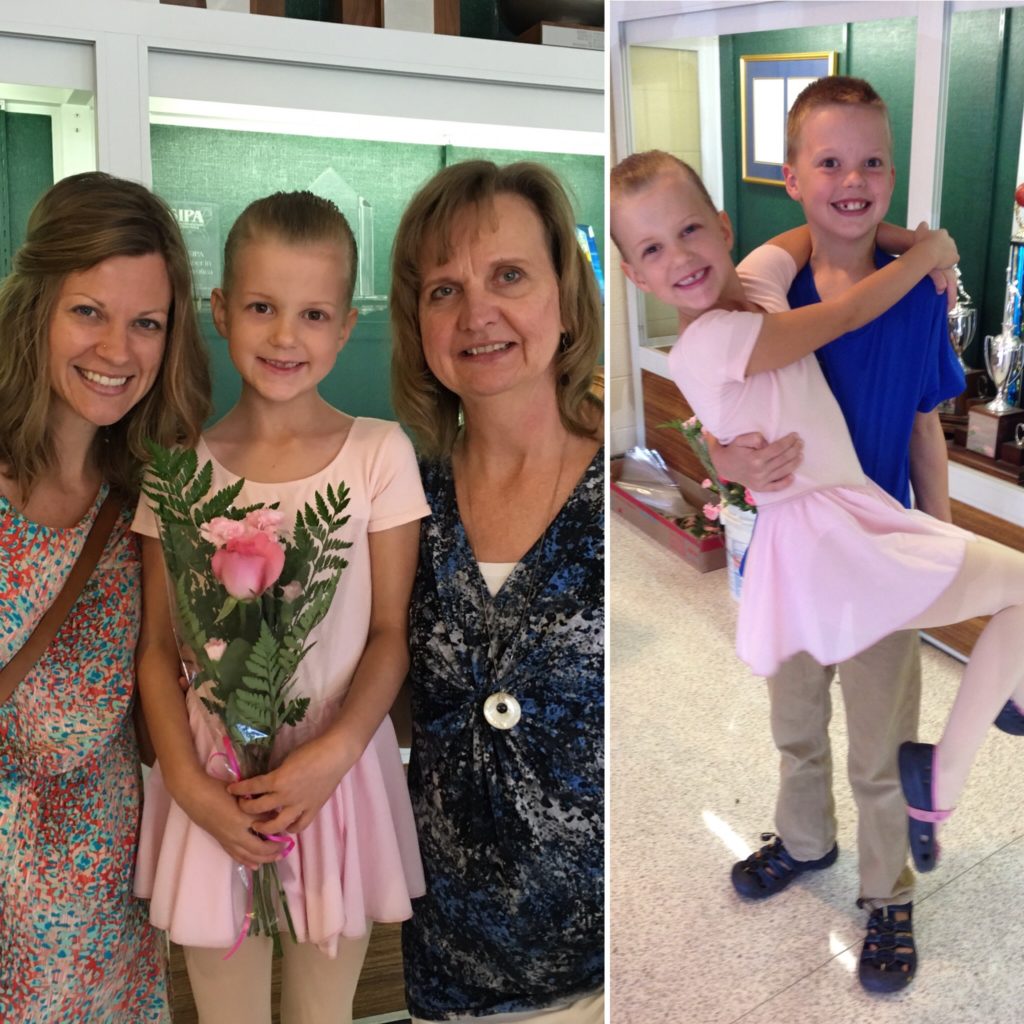 Hi there friends!
May has been a very busy month for us! It's funny that apparently the busiest month of the summer technically came before the summer started. We had 3 weddings (2 of which David performed), a ballet recital, our Classical Conversations summer practicum, and by this weekend will have taken 5 out of town trips!
Amie's recital was very sweet, and family and friends came to watch her. She had a great year in ballet and enjoyed being with her friends in class on Monday afternoons. We've decided to "take a year off" in favor of doing swim team with her brothers (which she's been at since January), and possibly neighborhood soccer. We'll see where we stand next summer.
I did something a little crazy mid-month and decided last-minute to take the kids to the Great Wolf Lodge all by myself. Some friends from our homeschool group, Classical Conversations, were going. Apparently the GWL has a homeschool discount week in May, so we jumped on board. David couldn't take off work, but we've been several times now (we always go for one overnight), and so I felt pretty confident that I could do it. I had a couple of conversations with the kids about how it was going to be a little different trip without Daddy's help, and we were all going to work hard at being grateful for this great gift and not complain (including Mommy!).
They did fantastic! I hardly saw the big kids in the water park once their friends arrived; I just focused on being with the boys and they took turns choosing which area to play in. In the evening a friend watched Noah so that Gabe and I could go on all the big water slides together, which was so fun. Sadly Gabe got sick on Day 2 and Noah wasn't interested in swimming without his brother, so we hung out with our friends and let Gabe doze while the big kids played, then packed up and headed home.
Poor buddy. If he's laying down at the Great Wolf Lodge, you know he's really sick! On the drive home, Amie asked, "You barely got to go on any water slides. Did you have fun, Mom?" and I tried to explain how much joy it gives me to watch my kids have a great time. I remember as a child feeling bad for my parents for not getting to do "all the fun stuff" or get as many birthday presents, and now I understand completely how they didn't mind one bit.
Thanks to our family's babysitting help, David and I spent two nights in Clemson for our friends', Spencer and Chrissy's wedding. David performed the ceremony and my brother Kenny and some friends did all the music, which made it even more special. We arrived home Saturday, and turned around for another wedding in Columbia. A couple in our church had a very unique, small wedding ceremony in the house they're remodeling together. It's a beautiful house, and we loved being able to bring our big kids along.
Here's a cute photo of our "reluctant napper." He's so close to giving up naps altogether, but sometimes just.can't.make.it. without one. Here's another:
He's pretty cute, isn't he?
This week was our Classical Conversations (CC) Practicum, which is a three-day conference in Lexington for all local CC campuses. The moms and/or dads go to sessions and receive training, and we have the option of sending our kids to the day camps. My kids love it! This year Judah and Amie were both in Geography/Drawing camp, and Gabe went to Play Camp. My mother-in-law and brother's mother-in-law kept Noah, and next year he will join us.
I love the chance to learn new information, to shop for some of next year's curriculum, and most of all to be with my friends and make some new friends. We get to chat during the breaks and eat lunch together, and I always enjoying picking the brains of more experienced home school moms.
I've loved this month, but also look forward to June, when things will calm down a bit.
Happy Thursday!