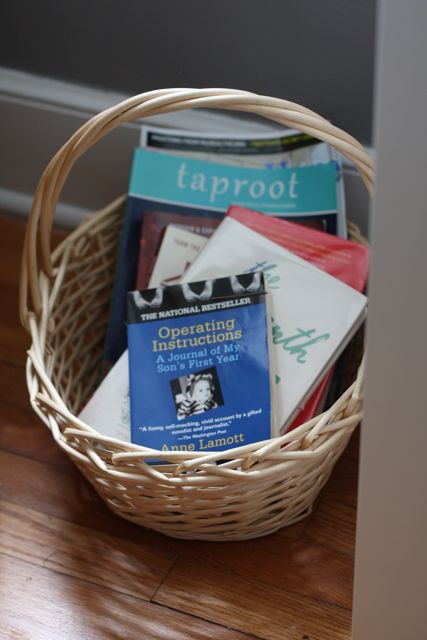 I've been working away, in fits and starts, at my adoption reading this summer. After our home study, I fully intend to skim through Secrets of the Baby Whisperer again — my go-to book on newborns and scheduling with my first two kids. And when the baby comes, whenever that is, I'll dig into What to Expect the First Year.
But my favorite books to read when expecting a baby are Anne Lamott's memoirs. I believe David's aunt recommended Operating Instructions when I was pregnant with Judah. It was the middle of summer when I first read it; we'd just moved 600 miles north to Lititz, Pennsylvania, for David to start seminary, and I was 7 months pregnant.
By then I was getting almost zero sleep at night and I'd waddle, bleary-eyed, into the living room at 2:00 a.m. and curl up in our big, ugly hand-me-down recliner and read Operating Instructions, which is Lamott's memoir of her son's first year of life, written journal-style. I laughed and cried my way through it and became more and more happy about being a mom.
Seven years later I'm "expecting" in an entirely different way, and I stumbled upon Some Assembly Required at the library, which Lamott wrote with her son Sam about her grandson's first year, and which I like even better. She takes a trip to India in the book, which is just icing on the cake.
Anne Lamott is truly one of the best writers I've found. While her style is completely different, her word pictures (in my humble opinion) at times rank up there with Barbara Kingsolver or Wendell Berry. She's a master story-teller.
I'm not at all the type of person to want to meet famous people, but Anne Lamott is one of those authors I feel I'd love to sit down and chat with. Preferably in her quirky house, drinking tea and surrounded by her pile of dogs and cats. She's so very down to earth.
We have our theological differences, but she makes me look at God and my faith in a new way. I love the way she talks about her church. Most of all, I love her honesty. Very few people have the courage to be as honest as she is in her writing. It makes you squirm sometimes and get embarrassed for her, but it's also like a huge sigh of relief because deep down you know, I've been there. I'm just like that. That kind of honesty changes you, frees you up a little bit to take off the mask and just be yourself.
She makes me want to go deeper in my writing. I think I'm fairly good at being honest, but I'm also still good at self-protecting. I want to push myself to use my words sparingly and creatively, and keep trying and trying until I find the right fit. I want to paint better word pictures. Bird by Bird is a great book of her advice about learning to write.
If you do pick up Operating Instructions, be warned that there's a whole lot of swearing. Some Assembly Required is a bit more mellow. Both are gems.
As I reread her books on motherhood and grandmotherhood and laugh and cry all over again, mostly I want to stop and notice. I want to remember everything. I want to be careful to be honest about the terrible difficulty and exhaustion of raising little people, and also revel in the swell of wonder and joy that is truly unmatched in this world.