Hello there friends,
I'm sorry for my lack of posts of late. In truth, my words feel all dried up. I've never felt like this before. I sit at the computer and pull up a Word document (where most of my blogging starts out) and stare at the screen and . . . nothing.
Maybe I just downright said everything I could possibly have to say during my October writing challenge.
Or maybe it has something to do with this strange season of life we're in, this waiting season, which I feel as though I've referenced here way too many times. I feel like I've become kind of a downer in this space and I'm sorry (or maybe I'm just not writing much because if I did I'd be a downer).
I realize that I'm pretty good at reflecting on a hard season after it's over. I'm not as good at doing so when I'm in it. I'm not feeling reflective in general at the moment; just trying to chin up and stay busy and get through it.
Whatever the reason, know that I'm still here. I want to be inspired. I want to have ideas rolling around in my head again, trying them on for size, in a great big hurry to race home and get them onto the page. Someday I'll be really back, I think.
In the meantime, I'm finding refuge where I always do — in books.
I tried finding refuge in TV for awhile. But I grew bored of it. I'm really not a TV person. I'll find a show I like, follow it enthusiastically for awhile, then just sort of lose interest and trail off, like during season 6 of Gilmore Girls (is it really worth finishing the series?).
What I am, is a book person. Books are where I go to be inspired, to become a better writer, and sometimes just to lose myself.
Books are comfort.
I thought I'd share with you a few of the books I'm finding comfort in right now.
Peace Like a River, Leif Enger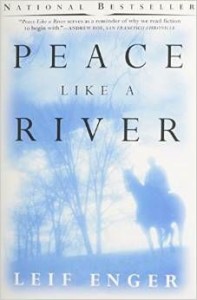 I've mentioned this novel in my gratitude lists and it bears repeating, because it's a hidden gem. I discovered it on Modern Mrs. Darcy, and once I got past the 1980's-vibe cover and vague title, it took my breath away. Leif Enger has my utmost respect because he achieves what I constantly look for and almost never find in novels: the combination of complex, memorable characters with fantastic plot with beautiful prose. This is one of my favorite books.
The Trumpet of the Swan, E.B. White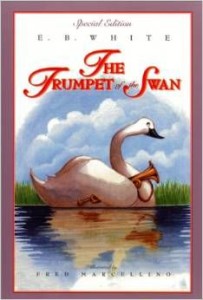 Most of us know E.B. White for his classic, Charlotte's Web, which, quite frankly, I've never been enthusiastic about. I found The Trumpet of the Swan on a book list of read alouds for first graders, so decided to give it a try with the kids. After a slow start, Judah and Amie and I became thoroughly engrossed and looked forward to our daily chapter. This is a fun book for adults and kids alike.
Peter Pan, J.M. Barrie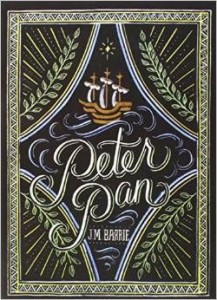 If you know me at all, you know that one of my favorite things is matching books with readers. If someone dislikes a book I recommend, it doesn't hurt my feelings; I take it as a challenge to try again. There are few things as satisfying as watching someone truly light up over a book. My current challenge is Judah and Amelie. I'm on a mission to help them love reading, just as my own parents did with my brothers and I many years ago.
But I'm being subtle about it. I don't go on and on about how they should love books; I just read them books. And I play a secret game with myself to scour blogs and book lists and search out ideas of books they'll light up for. If your kids don't love chapter books: don't be discouraged. We've tried lots and lots and some are still a flop (like Little House on the Prairie, sadly. We'll get there someday, I think). But we're all three enjoying J.M. Barrie's Peter Pan.
Aarti Paarti, Aarti Sequeira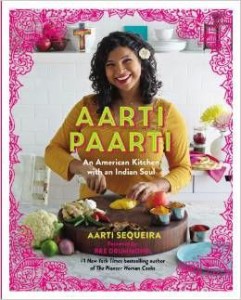 I read this cookbook cover to cover. I haven't watched Aarti Sequeira on the Food Network, but I enjoyed her funny, down-to-earth writing and stories of life in India, Dubai, and the U.S. I'm very inspired to try my hand at a few of her recipes too. Selfishly, I don't make much Indian food because I can't imagine it without chapatti (whole wheat flat bread), and my gluten-free self can't eat chapatti anymore. But some friends recently passed along a gluten-free naan recipe that I'm going to try. I'll let you know how it goes!
Mitford series, Jan Karon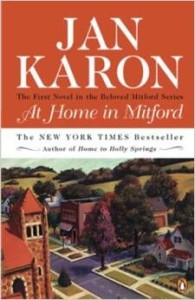 I read the Mitford series in its entirety every year. You don't read Mitford for the plot; you read it for the characters, who are as real as if they walked on this earth. A criticism of Jan Karon is that her books are escapism, that all the subplots tie up too neatly with a bow while real life is frayed and messy and often unresolved. I think that's partially true, but I also think that her characters do wrestle with real-life issues and relationships. Karon has profound insight into human character, and she communicates it in ways that feel fresh each time. Plus, her books never fail to make me laugh out loud.
Lizzy and Jane, Katherine Reay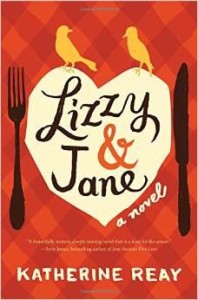 This book would be a fun vacation read. The writing was not my favorite, but I liked Reay's theme of family and community, and I enjoyed the literature and food references.
What Alice Forgot, Liane Moriarty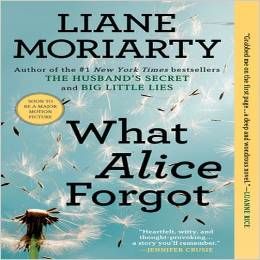 What Alice Forgot has an intriguing premise: 39-year-old Alice gets a concussion and forgets the last ten years. In the story she tries to understand how she got where she is in life. A sweet, powerful reminder that priorities need guarding, good relationships need cultivating, and that little, everyday decisions matter. I thoroughly enjoyed Moriarty's writing and will definitely be reading this again.
Spurgeons Sorrows: Realistic Hope for those who Suffer from Depression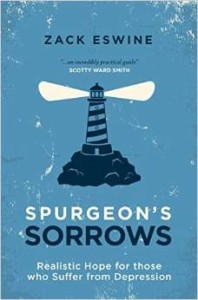 I'm in the middle of this book, but so far it has been my favorite on the subject of depression. Though it's mercifully short, I'm taking my time with it. I appreciate the way Zack Eswine interacts with the writings of pastor Charles Spurgeon, whose honesty and transparency about his own struggle with depression was surely radical in his day. A lot of wisdom and grace here.
And finally, for comfort I read the Psalms. Every morning. Some days, when the words won't come, they are the entirety of my prayers. Psalm 13 and 16-20 are some of my favorite.