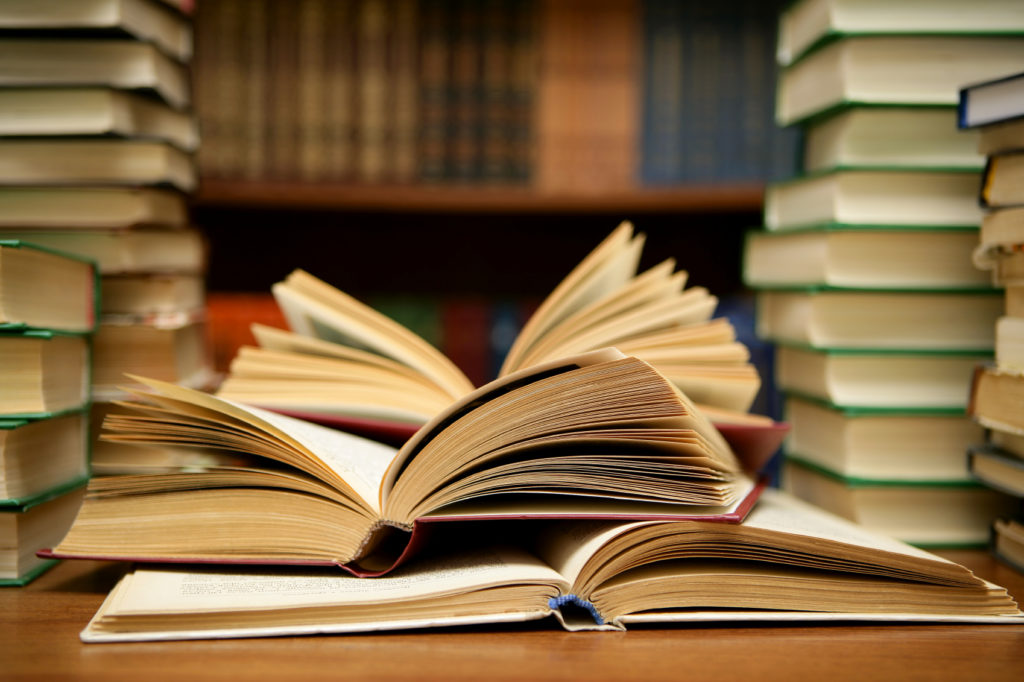 Thank you, dear readers, for the all the book suggestions you've passed along since my last post. I always love new ideas and can't wait to begin checking them out!
You know what, I promised you a Winter Bookshelf post, and then realized I felt largely unenthusiastic about recent novels. Never have I returned so many books to the library unfinished. Barbara Kingsolver says that she gives a book 20 pages, and if it hasn't hooked her, she puts it aside. Life is too short to read books you don't enjoy. To be honest, I've spent a lot of time lately reading backing through Jan Karon's Mitford series.
If you read my fiction recommendations in the past, you may have noticed a general theme of unhappy endings. I realized when friends ask me for a light, fictional book to read, I often wrinkle my brow in thought to find something (most common recommendations for that genre are the Mitford books and The Guernsey Literary and Potato Peel Pie Society).
Truthfully, I don't read fiction for happy endings, but instead for the way the writing makes me feel. Don't get me wrong: I love a good, satisfying ending (spoiler alert: that's part of why A Gentleman in Moscow was my favorite novel last year), but I don't like to sacrifice good writing and character development for an ending tied up with a bow.
At the same time, I've put several books aside recently because of how utterly un-redemptive they are, and how self-centered and small-minded the characters are. "Reality" does not always always equal "dysfunction." Honestly, I find a lot of recent fiction off-putting. Good motivation to return to the classics this year.
It's hard to strike that balance, isn't it? Hats off to writers of fiction who manage it.
Here's a handful of books that I have enjoyed lately, and on Tuesday, some book recommendations for the kids.
The Magnolia Story, Chip and Joanna Gaines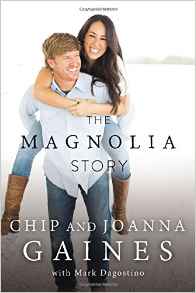 I smiled throughout this book, because Chip and Joanna's writing voices sound exactly like their Fixer Upper voices. I've discovered that when reading non-fiction, what I want most of all is simply to hear someone's story, and Joanna and Chip shared theirs — complete with strengths and weaknesses — in a very honest, humorous way, that had me cheering for them. David enjoyed reading about their variety of entrepreneurial ventures. A disappointment for me was the depiction of Christian faith, perhaps unintentionally, as shallow and capitalistic; little more than a baptized-balance sheet. Sometimes walking with God means blessing in business, sometimes it doesn't.
The House at Riverton, Kate Morton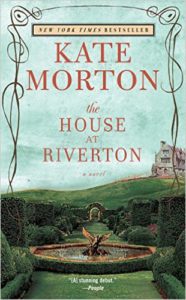 I've now read all of Kate Morton's novels, and I enjoy them immensely. Here's a perfect example of why I read books: though they all have a mysterious, melancholy tone, I just love the feel of her stories and her characters. I especially love her historical settings (England, around the time of World War 1 or World War II). After you've read a couple, they become a bit predictable, but I still find them engrossing and fun (warning: they're really hard to put down). If you're only going to read one of hers, my favorite by far is The Secret Keeper.
Teaching From Rest: A Homeschooler's Guide to Unshakeable Peace, Sarah Mackenzie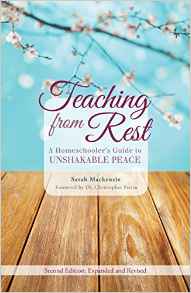 I got this book with a Christmas Amazon gift card, and it's now my single favorite book to recommend for homeschoolers. Maybe it's just where I'm at in my journey; maybe it's because Sarah Mackenzie has a bunch of kids herself, but her book was balm to my very soul right before we launched into a new semester of school. Blessedly short and to the point, it encapsulates the vision I have for our homeschool, and is full of practical, day-to-day encouragement. I plan to read it every year.
Mere Motherhood: Morning Times, Nursery Rhymes, and My Journey Towards Sanctification, Cindy Rollins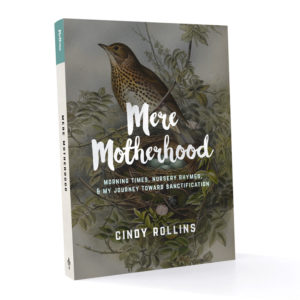 If Teaching From Rest is the top homeschooling book I'd recommend, this one's a close second, although it's not a how-to so much as one woman's story: a woman who happens to have nine kids. Also a Christmas gift (admittedly picked out for myself), I devoured this memoir in a couple of days, and then starting right back at the beginning.
Cindy Rollins is a new hero to me because she embodies the kind of writing I want to do. The Author's Note and Prologue alone are worth the price of the book. She's well-read and smart, and yet tells her story with down-to-earth grace, honesty, and wry humor. You close the book with the impression of her as a flesh-and-blood human who makes plenty of mistakes and is still learning to find joy in her journey. My mom enjoyed this memoir very much too, which speaks to Cindy Rollins' ability to connect with mothers in all different stages of life.
Bel Canto, Ann Patchett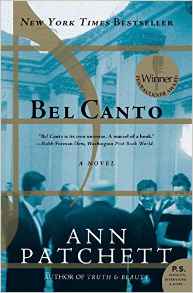 I'm continuing to work my way through Ann Patchett's fiction, and have just two novels left: Run and Taft. Bel Canto is unlike any novel I have read. A houseful of wealthy, powerful people from all over the world are taken hostage at a dinner party in an unnamed Spanish-speaking country.
Contrary to the initial plot-line suggests, this is actually a very slow-moving book, which gives you the panicked, monotonous, crawling-time feeling of being cooped up in a rambling mansion without hope of escape. It's character and setting-driven. For a time in the middle I struggled to finish it, but I pressed on, trusting Patchett's story-telling ability, and I'm so glad I did.
Our Souls at Night, Kent Haruf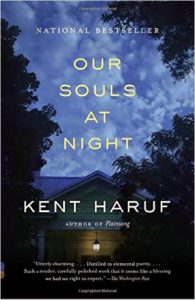 I can't remember where I discovered this quiet book. I sat and read it in one evening and ached with the painful beauty of two lonely elderly people who try to find a life together. It's not a happy book, but it is an insightful, well-crafted one.
Falling Free: Rescued From the Life I Always Wanted, Shannan Martin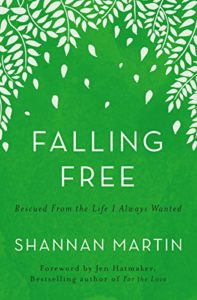 I've had my eye on Shannan's book since it was released and was excited to use Christmas money to finally get it. I enjoy reading her blog from time to time. She and her husband gave up their dream farmhouse in the country for a house in the city. Through a series of circumstances, they exchanged two well-paying careers for a job as a local prison chaplain and a life as a stay-at-home mom. They have four children, all adopted, one a 20-something ex-convict. This was a sweet, redemptive book to read after the blow of Evicted.
It's easy to become overwhelmed by the pain and the needs in our country. I was touched and challenged by this one family's story of finding freedom through serving, and I only wish this book contained more of the details. It's told in snatches, in a bit of a non-linear, topical way, with Shannan's thoughts on life and faith woven in.
I do love her emphasis on relationships, in their messiness and joy, as the doorway to real change, rather than simply doing a good deed to check a box. My favorite quote: "This is the way of community, where we all have something to offer and we all have something we lack."
Thanks, friends!
On Tuesday I'll be back with some children's book recommendations!
Save
Save
Save
Save
Save
Save
Save
Save
Save
Save
Save
Save
Save
Save
Save
Save