Friends!! I'm so sorry this took me forever, clearly I overestimated my ability to hammer it out really quick.
I hope it's worth the wait.
I had so much fun writing this post. Children's books are an unending source of delight to me, and the most amazing thing is how many wonderful books I'm discovering these days that I never knew existed. I read middle grade and young adult fiction to myself for fun (books my kids may not be ready for yet), but when I find a new picture or children's book title I like to wait to discover it with them for the first time.
C.S. Lewis said that the mark of a good children's book is that grown-ups enjoy it too, and I whole-heartedly agree with him.
This may be controversial, but I'll just go ahead and say it: I let my kids check character books out of the library (like Tinker Bell, Star Wars, Lego Ninjago), but I don't read them aloud to them. They can look at the pictures, ask a sibling to read it to them, or wait 'til they can read it themselves. By now they know the rule and now don't even ask me to anymore.
I want to spend the energy I have reading really good, well-written books to my kiddos, but I also want reading to be delightful and fun for all of us.
So because of that, I also don't give my kids a hard time if they don't love a book that I love. Like, for some reason, they just haven't been fans of Robert McCloskey's picture books, like Make Way For Ducklings, which are on every classic children's book list I've ever seen. But what can I do? I try introduce lots of great books to them, and give them space to form their own opinions. If they don't like something I've been known to wait several months or a year and just try it again.
My current favorite sources for kids' book ideas are Read-Aloud Revival and Sonlight (full credit to Sonlight for helping me discover most of the chapter books on today's list).
Here we go!
Picture books
When it comes to picture books, I'll typically settle on an author we like and work my way through their books, getting a couple at a time. Often this involves typing the author's name into Google to see what all they've written, then requesting books from the library, but sometimes I'll just find the author at the library and flip through titles there.
The following are tried-and-true authors that ALL my kids enjoy (and me too!); they are books we have read and reread and reread again.
I'd also like to point out that this list could provide gift ideas if you want it to (see how versatile it is!?). If we're invited to a child's birthday party I ALWAYS give books. They're fun for baby showers too! I still remember books that people gave us when Judah was born. Do the recipient a favor, pretty please, and write the date and a message inside. It's such a fun treat for them to discover when they learn to read for themselves.
Sandra Boynton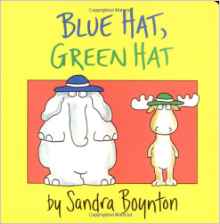 Thank you to our family: Pat, Cathy, and Annie for getting us hooked on Sandra Boynton when Judah was a toddler! These are family favorite board books and all these years later, we own most of them and still read them together. Blue Hat, Green Hat is the book that all four kids delightedly learned to "read" first, and it's their favorite. We've also completely memorized Pajama Time! and Hey! Wake Up! Please just do yourself a favor and read them all.
If you are down and need a pick-me-up, look no further than Elephant and Piggie. Their friendship reminds us that life is sweet and should not be taken too seriously, and that laughter is the best medicine. We own several of them but also always have one in our stack out from the library. They're Gabe's current favorites, and I tell him that Waiting Is Not Easy is the book we read over and over to comfort ourselves when we were waiting for him and Noah to come into our lives. It still makes me cry to this day (and is a great gift for any adoptive parent).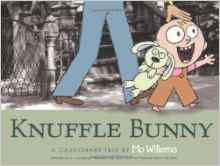 The Knuffle Bunny series by Mo Willems is a little lesser known but just as brilliant as Elephant and Piggie. These three books are ones the grown-ups especially love.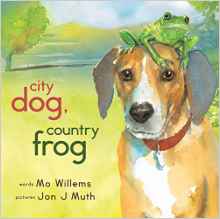 Finally, City Dog, Country Frog, is a hidden Mo Willems gem in my opinion. It's a little more serious than his other books, but a beautiful, touching story.
Shirley Hughes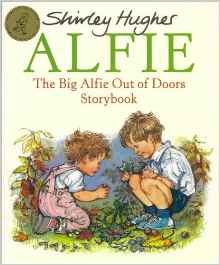 I stumbled upon Shirley Hughes on a website once, and couldn't believe we'd never heard of this lovely English author! You'll enjoy her artwork just as much as her writing. We've almost completely worked our way through her books, and there's lots of them (don't you just love prolific authors?). Start with the Alfie and Annie Rose series. The Tales of Trotter Street  series is a favorite of ours too.
Jonathan Bean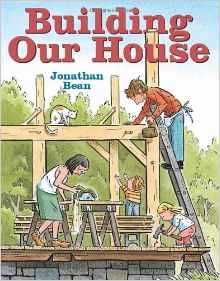 I discovered Jonathan Bean on a Read-Aloud Revival podcast episode and love, love his books and illustrations. I've been buying them over time because they're the kind of books I want to share with my grandkids one day. His stories Building Our House and This Is My Home, This Is My School, are from his childhood (he includes family photographs in the back!). It's so fun for our kids to have a picture book that's about a homeschooling family. We love Big Snow and At Night too.
Jane O'Connor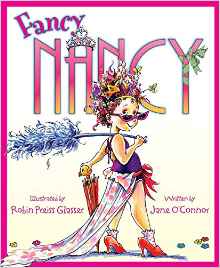 These are hands-down Amie's favorite books. She never gets tired of them, and heads straight for the Fancy Nancy books when we arrive at the library. I enjoy them because Nancy is, well, fancy, and her mom is plain, and somehow they find ways to meet in the middle. Sounds like another mother-daughter relationship I know of!
Rosemary Wells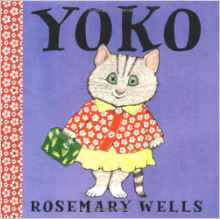 Rosemary Wells is so fun! Yoko is story about a cat who brings sushi to school for lunch, and her classmates' response. We have Noisy Nora in our stack now, and the Max books are sweet too.
Kevin Henkes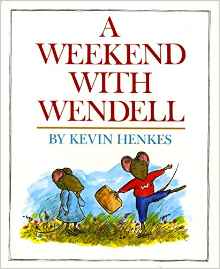 Our favorite is A Weekend With Wendell. We also love Owen, and Lilly's Purple Plastic Purse. I've never met a Kevin Henkes book I didn't enjoy! But they check out like hot potatoes in our library, so I usually have to get online and request them.
Henry and Pawl and the Round Yellow Ball, Mary GrandPre, Tom Casmer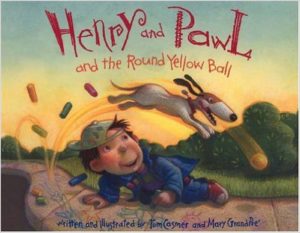 This isn't a series but is a sweet story of a boy who wants to be an artist. It was given to us when Judah was born and has been a favorite for a long time (Which delightful person gave this to us!? How I wish I could remember. If it was you, please speak up! See, there's a good reason for you to write a note in the books you gift). I think I read it twice a day to Judah for a good long stretch. It has the added delight for him now of being written by the illustrator of the Harry Potter series.
Jaqueline Woodson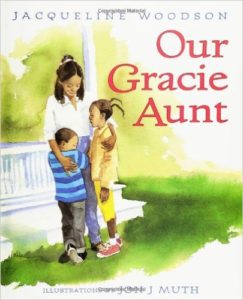 Jaqueline Woodson's children's books are thoughtful and compassionate.  Her stories touch on race, poverty, incarceration, and foster care in age-appropriate ways. I first found this book after our adoption and it helped me understand what my boys were feeling just a little better.
Chapter books
Wonder, R.J. Palacio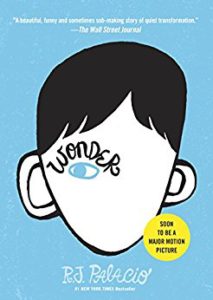 This is aching yet heart-warming story about a young boy with a facial deformity named August, and his transition from being homeschooled to attending middle school. It's a beautiful example of the power of story to take us outside ourselves and allow us to walk in other people's shoes. I don't typically like books written from multiple points of view, but the effect was powerful in this case. Everyone can find themselves in the pages of this novel, which I'd say is for older elementary students or middle schoolers (and high schoolers! and grown ups!). I plan to have my kids read it in fourth or fifth grade, and I look forward to discussing it with them.
The Family Under the Bridge, Natalie Savage Carlson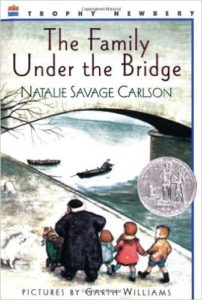 This story about a homeless family and the stranger they meet takes place in Paris, and my kids immediately recognized the illustrator from the Little House on the Prairie books. I could see in their eyes that it was the first time poverty became personal to them, and we enjoyed this sweet story and also had lots to talk about.
Here's a Penny, Carolyn Haywood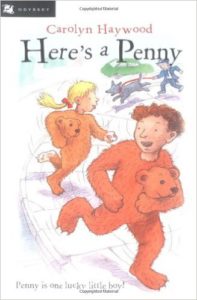 The adventures and misadventures of a young, adopted boy named Penny, set in the 1940's. We thoroughly enjoyed this story (especially the ending), and it's sequel.
The Princess and the Goblin, George MacDonald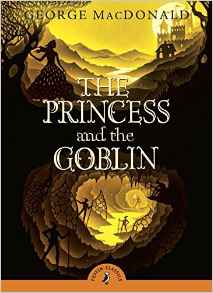 The Princess and the Goblin was a favorite from my childhood; last month my mom gave me the beautifully illustrated copy we've had in our family for years, and it was our December school read aloud. This is a fantastic, fast-paced story for both boys and girls; even Gabe, who's known to get bored of chapter books, was swept up (because I mean: goblins!!!).
The Hundred Dresses, Eleanor Estes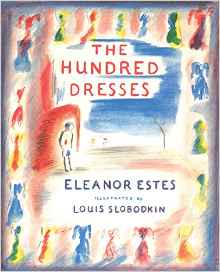 This is a book for every young girl's bookshelf. It's about poverty and gossip and cliques. I want to reread it with Amie as she grows up.
Adventures with Waffles, Maria Parr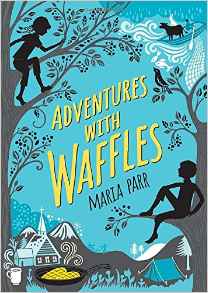 This was a bedtime read for Judah, Amie, and me this winter. Set in Norway, it's about best friends Trille and Lena, who find themselves in one catastrophe after another. It's laugh-out-loud funny and also had me choked up a couple of times. Judah loved it so much he chose to talk about it in a school presentation.
In Grandma's Attic, Arleta Richardson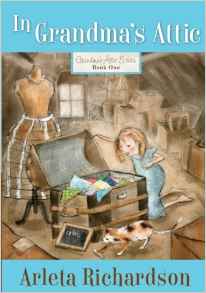 It made me so happy that my kids enjoy this series as much as I did as a little girl. In some ways reminiscent of the Little House books, it's full of funny stories of a girl growing up on a farm.
No Children, No Pets, Marion Holland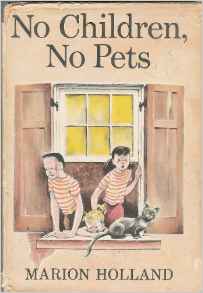 Judah, Amie, and I thoroughly enjoyed this story of a single mom and her kids who inherit a ramshackle hotel in Florida.
Father and I Were Ranchers, Ralph Moody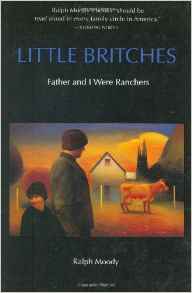 We just finished this true story about a family who moves to a cattle ranch in the early 1900's for our kid's book club. Our kids have gotten hours of imaginative play ideas from it. A couple warnings: it has a sad ending, and there's some "cowboy language" you'll want to skip over, but other than that it was just about perfect. Little Britches is a whole series, and Judah's just now starting the second book, Man of the Family. I want to read it too!
Finally, if you're looking for more chapter books, especially for boys, here are:
Judah's recommendations (age 9)

Captain Nobody, Dean Pitchford
Homer Price, Robert McCloskey
The Red Pyramid, Rick Riordan
The Hobbit, J.R.R. Tolkein
Harry Potter series, J.K. Rowling
The Wingfeather Saga series, Andrew Peterson
I already have enough picture books/authors for another post, so I'll write you another in awhile (with my track record, better plan on it being a long while). In the meantime, you know I always love recommendations!
Even if you don't have kids, may I suggest making time for children's books? Go sit yourself in the kids' section of the library and pull a few off the shelf. The great ones never, ever fail to move me and lift my spirits.
Happy reading!
Save
Save
Save
Save
Save
Save
Save
Save
Save
Save
Save
Save
Save
Save
Save
Save
Save
Save
Save
Save
Save
Save
Save
Save