A week of my favorite things . . .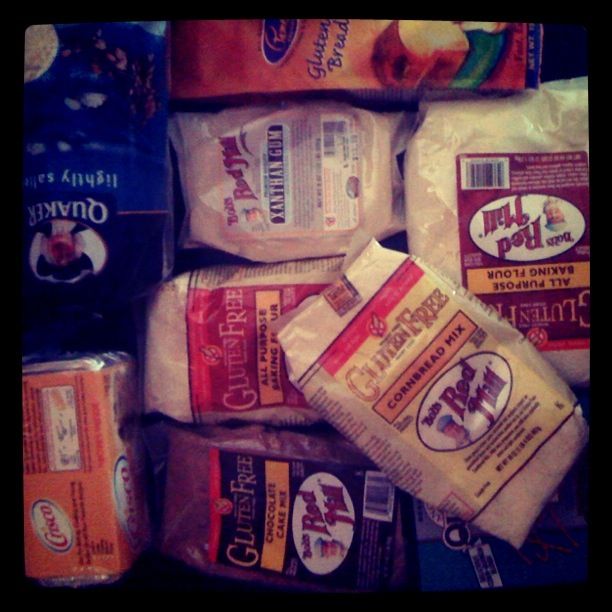 I am overjoyed by the number of people who learned about my new, gluten-free predicament, and have sent me care packages.  Fun care packages!  Yummy care packages!  Full of things I can't find here: like rice cakes and xanthum gum and GF all-purpose flour.  With a cookie mix or chocolate cake mix thrown in for good measure.
Priya is simply astounded by the influx.  She said, "You have some very good friends!"
Do I ever!
It's humbling, to be sure.
2012 has been a year of lows in the food department . . . until these last couple weeks when we hit the jackpot.  Now I can pull out my KitchenAid mixer and voltage transformer (thank you Palmetto PresWIC friends!), a GF bread mix and a couple of eggs, and in a little over an hour we have a loaf of breading baking golden in the oven.
We can have peanut-butter-and-honey sandwiches and toast, banana bread and spaghetti.  When a friend came over on Saturday morning, I whipped up a batch of gluten-free chocolate chip scones to go with our coffee, and I watched her eyes widen with surprise over their deliciousness.  I told her how happy baking makes me and how hard it has been giving it up these past two months.
And now, at last!  Baked goods!  Comfort food!
I'm continuing to feel great on my GF diet, and can even add back some dairy now and then and feel fine.
And guess what: Judah loves the GF bread so much he now refuses to eat normal bread!  Just wait: he'll turn into a health nut yet. 🙂
So thanks for spoiling us.  I love it.  My family loves it.  It is a huge blessing.