Two expressions that we use a lot around here these days are:
"The condition" (addition)
and
"The instruction!" (construction, coined by Noah and always said with an exclamation mark, as in, "The instruction is digging!!!" or "Those little boys left their instruction at our house!!!")
Here's our house on Day One.
After we posted that the addition had started, lots of people said, "Wait, you didn't mention that this was finally happening!"
The truth is, we didn't know it was finally happening until Monday morning at 8:00 am, when the crew arrived.
Last fall-ish, we thought we'd finally found a builder, and scheduled him to start the first of the year, only to have him lose touch for a couple of months. We figured we were back to square one.
So this winter, David scurried and found two more builders and they came to give us quotes. During this entire time (and truly for the last two and a half years), he checked Zillow house listings daily, emailing me some every now and then.
Then suddenly our original contractor got back in touch with us within the last couple of weeks, invited us to come check out a home addition he was finishing up in the Forest Acres neighborhood (which we loved!), and began talking details. He came out to give us a final quote. All of which seemed promising. But after wearying of the rollercoaster of House Addition Waiting, we sure weren't holding our breath.
The truth is, until Monday at 8:00 we didn't know for sure what we were going to do. Stay or move. Addition or no addition.
But when our builder, Scott, knocked on the door Monday morning while we were scrambling to get ready for Classical Conversations, building permit in hand, and asked me to move our van out of the driveway, I had the most amazing feeling of relief and happiness. I couldn't stop grinning all day long.
So really, this story isn't so much about a home addition, as it is about figuring out that this is exactly where we're supposed to be.
We looked at so many big and beautiful homes over the past couple years — ever since we decided to adopt — quite a few that are way more sophisticated and historic than ours (and some really lousy ones too). I lost my temper many a time over our teensy one bathroom and small kitchen and us tripping all over one another here.
But the truth is, we didn't want to move. None of us.
Last month David and I looked at one another and said, "What the heck, let's just stay. Let's never move. Even if it's cramped. Even if Judah and Amelie share a bedroom forever. Let's pretend we're Tiny House owners."
Because when it comes down to it, this is the first house we've ever purchased. It's affordable. It's the home God gave us after the heart-break of leaving India. This was our refuge when we started a church, the place we welcomed our two sons, and ate chili with CPC New Members. We love our neighbors. We love that we can walk to the grandparents' house. It seems that after just three-and-half years we're so neck-deep-rooted in memories that it felt like losing a part of ourselves to sell it, even for something bigger and better.
So we decided not to.
The very next week, David went out and bought eight chicks, and has spent the weekends since working on building them a coop.
I think we held out so long on chickens because we just.didn't.know.
And suddenly, out of the blue, here is Scott, arriving each morning with a bright smile, his crew friendly and hard-working, our boys enamored with the fact that a construction zone has plopped itself right outside our window.
And the happiness just washes over me like waves.
We don't have to move.
We know exactly where we're supposed to be.
When it rained on Wednesday, my sister-in-law texted and said, "I'm so sorry the work is being delayed!" But you know what? I couldn't care less.
It's started! And that's enough for me.
I really think if we'd been doing this a year ago, I'd be impatient over every little thing. Now I'm just grateful.
And now a few details.
As you can see from the pictures, the addition is coming off the front left as you face our house, turning it from a rectangle into an "L" shape. From the inside, the window where the boys are standing will become a doorway into a tiny hall, take a right and there's the bathroom, walk-in closet, and master bedroom in succession. It will be about 450 sq. ft. total.
Judah and Amie exclaimed over the yellow Port-a-John that arrived the other day, and Gabe asked, "Mommy, is this our new bathroom?"
One of our favorite things about living here is that our neighbors are pretty awesome. My friend says we're on the "wrong side of the Earlewood tracks," meaning our neighborhood is next to some really nice neighborhoods but isn't so fancy itself.
But you know what I love about that? No Homeowners Association. No neighbors chiding us for not landscaping our front yard sooner (judging from the way it looks now I'm pretty happy we waited). No one cares about the noise (at least not yet, fingers crossed), and my friend across the street invited the crew to use their second driveway if needed.
Our next door neighbor said awhile back, "You can do anything you want to your house, as long as you don't move!"
This week the crew moved the gravel driveway, cleared the front bed of azaleas (which we're attempting to replant elsewhere), removed the brick, measured and dug the footers, had a footer inspection, and today the concrete was poured.
If you're wondering how invasive the project is, well, you can see that outside our house is mass chaos. But thankfully because it's an addition rather than a renovation, very little of it will affect our living space. We have a couple of sheets draped in the corner of our bedroom because of the dust. Eventually they will need to seal up a window in our current room (Amie's future bedroom!), and cut the door.
For now, it's mostly just noisy.
We're going to plug away at our normal routine as usual, and escape when we need to. David took the day off work today, and we all went to breakfast at the Wired Goat cafe, then for a five-mile hike at Congaree National Park. We can't do that every week, but today it was amazing. The woods were delightfully quiet after the construction.
Now they're finished for the holiday weekend, and David is out back happily working on his chicken coop.
Scott estimated the project to take about three months from start to finish.
It's hard to believe by summer it might be finished!
We are all so very, very thankful. Waiting was not easy. But it seems that it's made the whole process all the sweeter.
Happy Friday!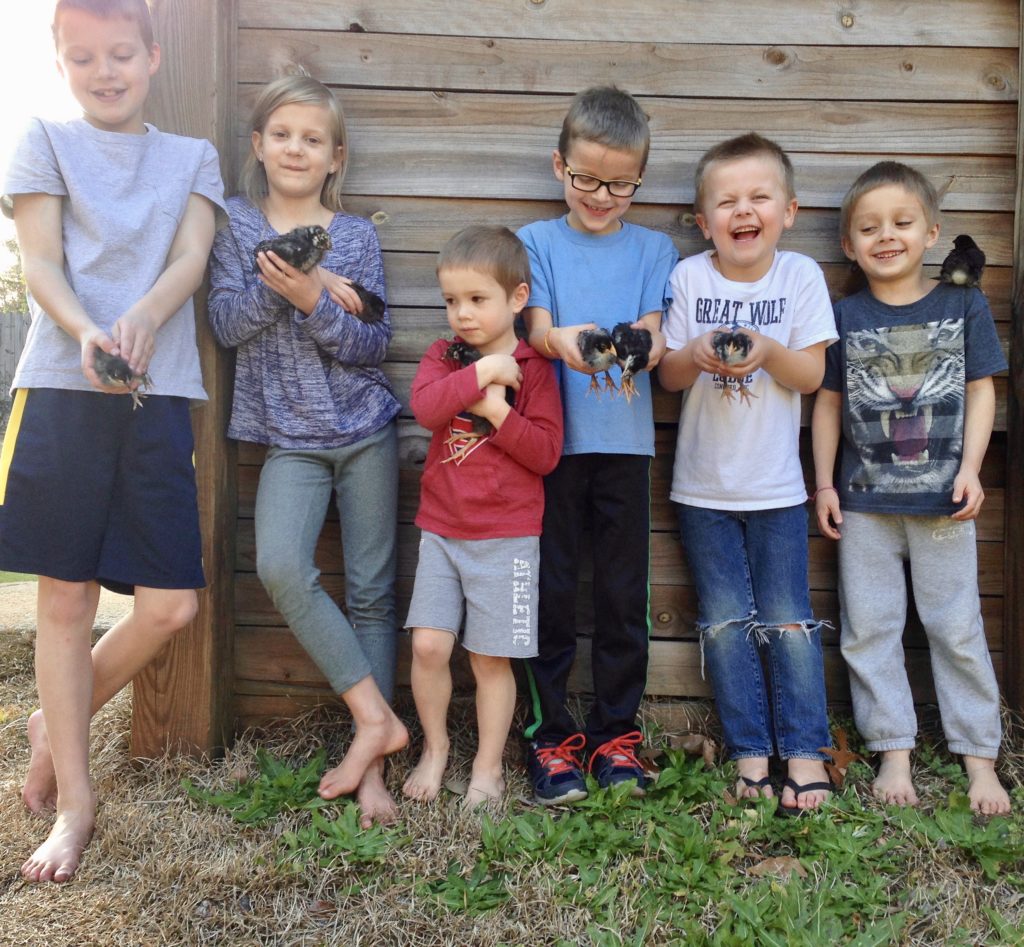 Save
Save
Save
Save
Save
Save
Save
Save
Save