Soon after we decided to buy our house, I began thinking about living room window treatments (yes, I'm weird like that).
Here are my three favorite websites for home design ideas:
Young House Love 
Apartment Therapy
Houzz
I've spent way too much time on all of those blogs in the past months, but it's been so fun.
I love curtains, but just wasn't feeling them for our new living room.  The windows are big and the walls on either side of our picture window so narrow that I felt curtains would look bulky and cover up too much of the window.  You might remember the faux-wood plantation blinds on the big window, and then there were bamboo blinds on the far window: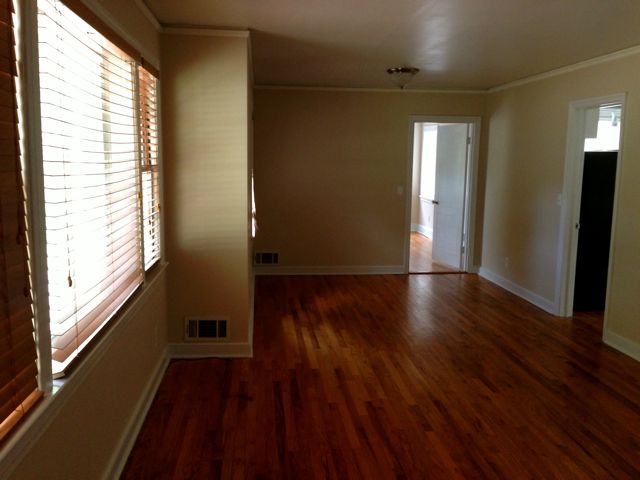 Blinds are probably the best choice for privacy, but I'm not a big fan of them in the living room.  I do like the look of bamboo blinds, but after talking with a couple friends I decided that since our furniture is mostly wood and neutral in color and our floors are wood it would be best to add some color to the windows.
Ruling out curtains and blinds basically left me with the option of a shade of some sort.  I wanted something casual.  I wanted something relatively unobtrusive so that the windows are the main feature, and I also like to get as much light in the daytime as possible (basically, if I could just leave my living room windows uncovered I would).
My mom sewed Roman shades (also known as Roman blinds) years and years ago for the house I grew up in, and I liked the idea.  Lots of Houzz and Pinterest photos later, I decided that's what I wanted for our living room.
So after a consultation with my Mom who was ready take the plunge with me (translation: she was the mastermind behind the whole thing), we went to Hobby Lobby to look at fabric and get an idea of the cost.
This fabric caught my eye right away and it was a good price at $8.99/yard: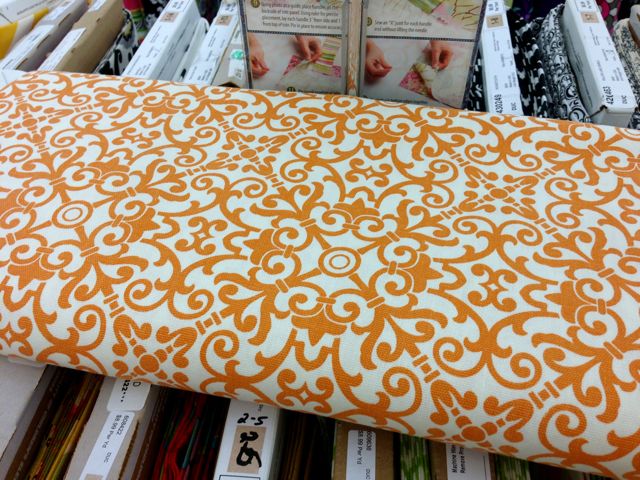 We placed an order for the fabric and then took measurements, and I went back later to make my purchases.  My mom showed up a week ago Saturday with her awesome vintage sewing machine that belonged to my grandma and we got to work.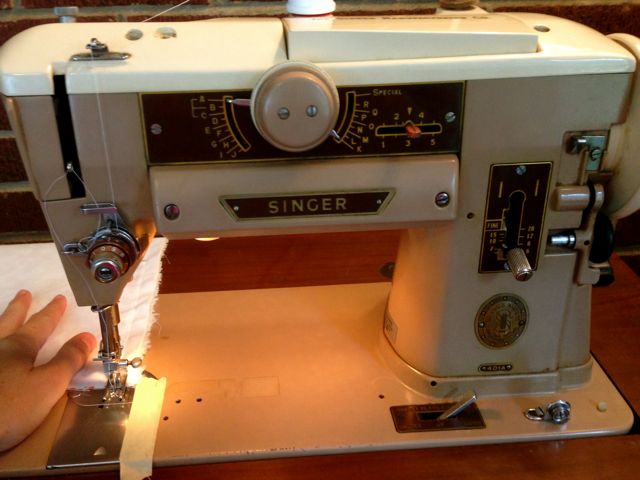 This was my first big sewing experience, and I can tell I've reached a new phase of life because it was a project I actually enjoyed (for years I've been completely anti-interested in sewing). The measuring and cutting part was the most stressful because I'm so not a math and numbers person.  But my mom did great and gave lots of encouragement.  We more or less followed this tutorial, making some tweaks along the way.
I've had some friends mention that you can find tutorials for no-sew Roman shades and Roman shades that make with mini-blind parts.  I think those ideas are great, but I specifically wanted to use my shades for privacy in the evenings, so our process was a bit more complex.  But if you like the look without needing them lined or needing to lower your shades, here's a great tutorial.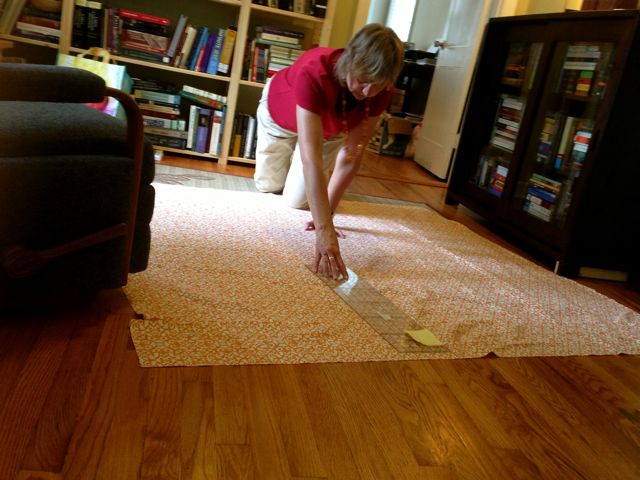 We spent about five hours working that first Saturday, made some mistakes, learned some things, then my mom came over three evenings after work the next week.  She went out of town on Friday for a week so that left me with, gulp, finishing the project alone.
She set me up for success those by leaving great instructions.  The last big piece this weekend was hand-sewing all the rings on the back of the shades.  I did those Saturday night while hanging out with David and Danny, then most of Sunday afternoon.  I felt very, very domestic.  Actually the sewing was my favorite part of the project.  I found it soothing.
My dad cut the wood pieces and supplied me with eye hooks for mounting.  Here's how the back of the shades look when they were ready to hang: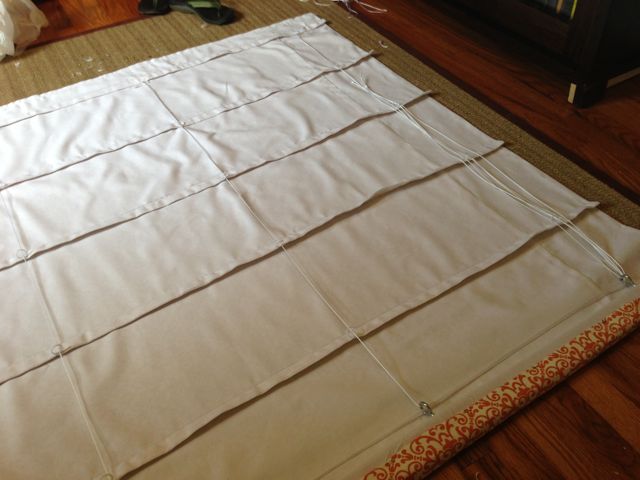 David helped me staple the fabric to the wood, take down the old blinds, and hang the shades.  It felt so great to get those broken, dusty blinds off the windows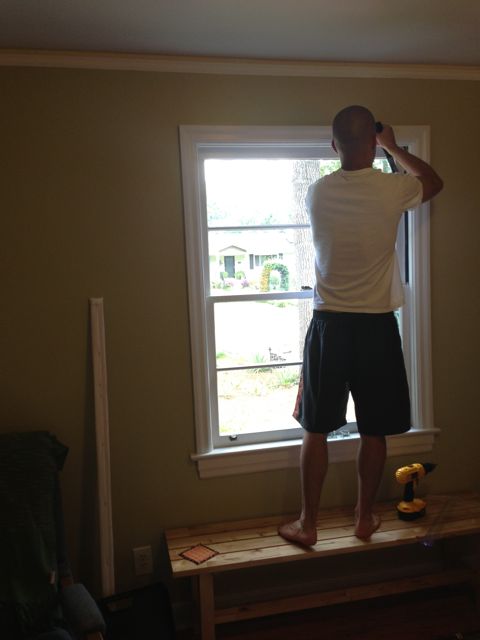 And . . . the end result: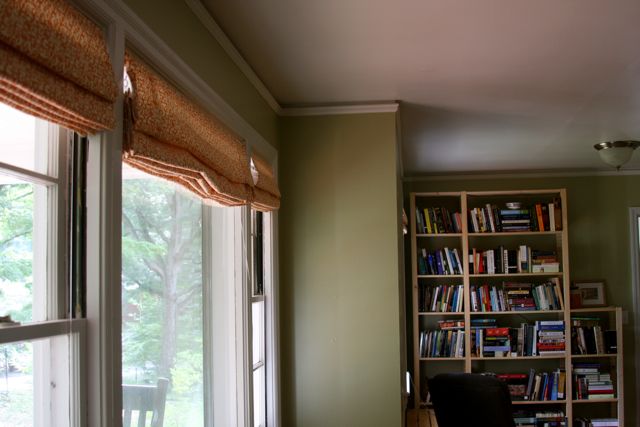 We're very happy with the way they turned out.  You can't really see but the cords are just stretched and wrapped around the window pulls.  I looked at Lowe's for a hook to mount on the upper inside of the window, but no luck so far.  I'm going to try Hobby Lobby next and will be sure to photograph the finished product.
I guessed this project would cost $100 and it ended up being $130.00 after all was said and done (okay probably $135 after I find those hooks) and included: 8 yards fabric, 8 yards lining, plastic rings, cord, thread, metal dowels for the bottom, and L brackets (wood and eye hooks were free, I also used my parent's staple gun).  I have less than a yard of fabric left over and probably two yards of liner fabric.
We spent 15 hours of labor (about half of that was two of us working together and the other half either just my mom or just me).  It's funny, I feel like if we started the project again right now we could do it so much faster and more efficiently.  But isn't that always the way it goes?
I used to have the mindset, "Why make something when you can buy it for the same price?", and believe me, I still love Ikea as much as the next person, but as I get older I also love the idea of creating some of the things in my world rather just consuming.  I love that my window treatments have a story and that they're one-of-a-kind.
In short, it was time and money well spent, and yes, I'd do it again!