My brother Danny recently moved back to Columbia and last night we got together to cook.  He's been working in the food industry for years and years, so he's the real deal when it comes to all things food.  It was his idea to make pasta (believe it or not, I'm not so good at branching out and trying new things, and the very idea of homemade pasta terrified me).
Danny did the research and found a gluten free pasta recipe he felt was authentic, then I went to Whole Foods and assembled the ingredients.  We put the kids down, poured a glass of wine, and got to work.  Pretty soon our minuscule kitchen counter was covered in flour and we were laughing at my sorry attempts to separate egg whites with my bare hands (Danny assured me this is the way to do it and made me practice until I got it down).
We measured and whisked and mixed it all together in the Kitchenaid, added another egg yolk and a splash of olive oil, and the Gluten Free Girl's secret ingredient: a pinch of nutmeg, until the whole kitchen was fragrant with it.  Once the consistency was right, we wrapped our little mound tight in plastic wrap and let it rest while we enjoyed the evening June breeze on the front porch.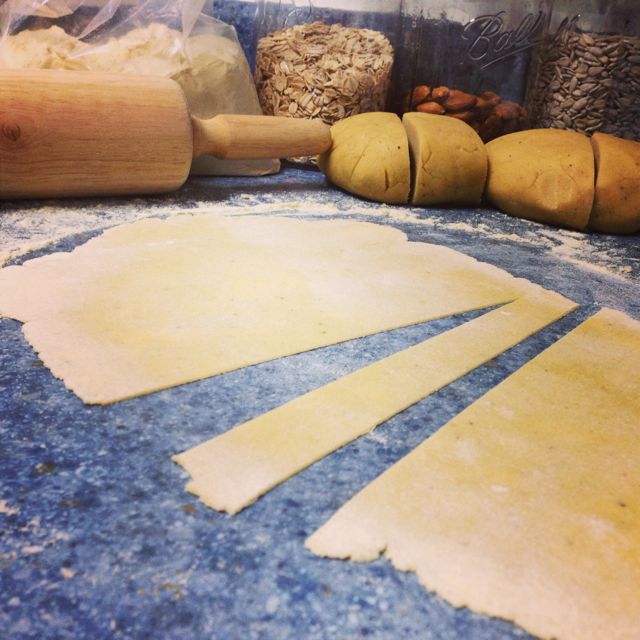 I love the rich golden hue of the pasta dough, which comes from the garbanzo fava flour and the sprinkle of nutmeg.  Danny showed me how to cut the dough into sections, then roll it thin enough that you could just see the counter underneath.  I sliced wide pappardelle strips while Danny whipped up a simple sauce of butter, chopped garlic, and fresh basil.
In addition to separating eggs, I learned how to chiffonade basil, and that the pasta rolls more evenly if I place my hands on the actual rolling pin rather than its handles.  I also learned that properly salted pasta water should taste like the sea.
Fresh made pasta needs only a couple of minutes to cook.  Danny tossed the first handful of cooked pasta quickly in the sauce, then spooned it onto a kid's Ikea plastic plate and we stood there and devoured it in about thirty seconds.  It was piping hot and salty and creamy and oh. so. delicious.  I could've cried with the joy of tasting really good pasta again.
Before I knew it, Danny had grabbed a hunk of Romano cheese out of the fridge and was grating it for ravioli.  He rolled the pasta dough and cut squares, then showed me how to drop a lump of filling in the center–Romano and fresh basil held together by a drop of sour cream–cover it with another square, then press the edges together without tearing them.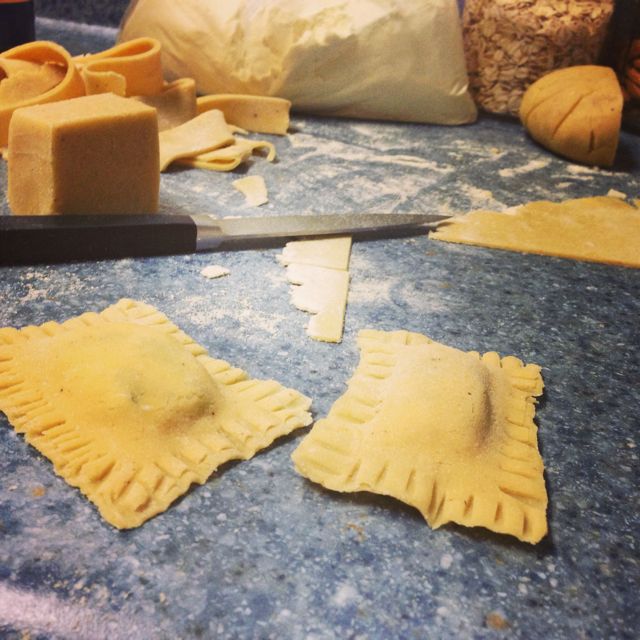 David came in just in time for a bite of ravioli fresh from the pot, and we swooned over it.
We never ended up sitting down to dinner, because no batch of pasta lasted long enough to make it to a dinner plate.  Danny cooked and tossed and served me handfuls of pasta, and I filled my belly as I rolled and cut the rest of the dough.  We ended up with another meal's worth of pappardelle that I stuck in the freezer for later this week.
What a night.  My brother is good for me because he senses my innate caution and fear of failure which tells me that he should cook and I should stand back and watch.  He doesn't stand for this, and instead makes me try each of the steps.  By the end of the night I wondered who this thirty-one-year-old woman was who deftly rolled and sliced pasta as if she knew what she were doing.
I can make homemade pasta!
It was an adventure.  It was fun.  But the best gift of all that Danny gave me was this: inspiration.
I've been having a big old pity party since I went gluten-free, feeling left out, feeling like I'm drudging away in my kitchen in order to be healthy.  But Danny showed me that my new diet doesn't exclude me from marvelous food–and it certainly isn't an excuse to sit and mope.  Instead, we find alternative recipes.  We learn new skills, together.  I learn to laugh when I make mistakes and I try again.  I keep working at it until I feel the joy of cooking come flooding back.  I felt a big ray of it last night.
Thanks, D!