This was the whirlwind that was Summer, 2012: we came home from South Asia in June, and then officially said good-bye to our life there in September, when we'd heard the doctors' report about my allergies.  David flew back to pack up our apartment and ship our things, and all the while our heads were reeling from this finality, this ending of a story that seemed to have only just begun.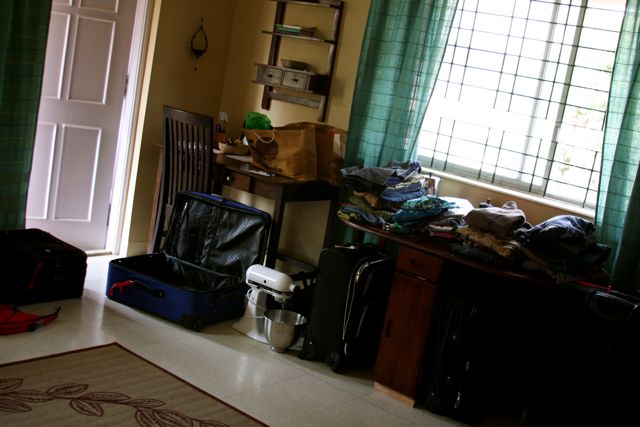 (packing up our south asia home)
In those bewildering weeks, as we grappled with the sudden ending of one life and tried to focus on getting me healthy, we asked every day, multiple times a day, "God . . . now what?"
Missions is all we've ever known as a married couple.  And by that I mean both the preparing and the doing missions.  We've both worked regular jobs for different seasons, David did a two-year youth internship, then down the road was hired as a lead teacher at a church plant.  And there was seminary.  And the process of David getting ordained as a minister in our denomination.
And all of these were just steps on the road to our becoming missionaries.  All were meaningful and all were things that God used to grow us, but in our minds, they were all "preparation" for what was to come.
But then last September "what was to come" was over, and in our minds was a giant blank.
We're grateful that we've made many connections in these past nine years, and David began receiving emails and phones calls about ministry positions, both within and outside of our denomination.  I think our very first thought was that we'd find a new place to serve overseas.  We heard from a couple of different friends inviting us to check out their teams on other continents.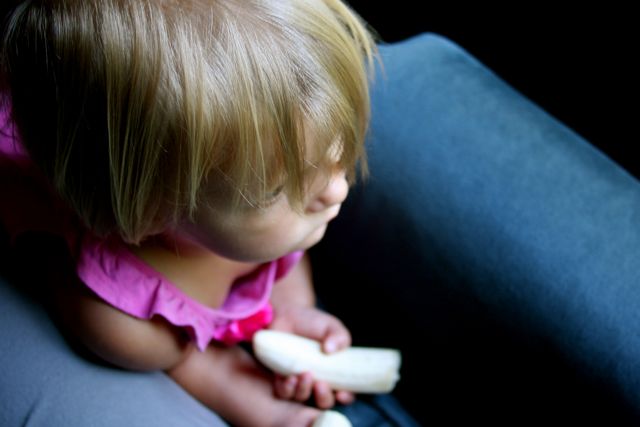 (house-sitting in irmo)
I give total and complete credit to my husband, because I believe it was at this point and not before that he really said "good-bye" to his dream of overseas missions.  He received those offers and then he looked at me and looked at our family, and he knew there was no way we'd could jump up after what we'd just been through, and do it all again in a brand new place.  Maybe one day.  But not now.
As for me, you know that during this time I felt broken beyond repair.  If I could sum it up, I'd say: I gave everything I had to life and ministry in South Asia . . . and I have nothing left.
David saw this too, and unbeknownst to me began looking at jobs outside of the ministry arena, asking God, "What should I do?  What will bring healing to my wife and to our family?"
But even in those dark, exhausted weeks, there was a tiny glimmer in my heart.  It was a glimmer that knew we weren't done with full-time ministry.  And so at my prodding, David presented the different ideas to me that were presented to him and I listened.
In this season I sat down with my sister-in-law, Shari, and told her, "I have no idea where we'll be, but I know it won't be in Columbia."  And I sat down with my husband and said, "Anything, anything but planting a church."
Hmmm.
Let's take a moment to review the list of my "I will never's" from recent years.  "I will never be a pastor's wife."  "I will never live in South Asia."  "I will never home school my kids."
I am thirty-one years old, and in light of those statements and of the fact that I'm still being surprised by the way my life is unfolding, I hope and trust and pray that I'm finished with saying, "I will never . . ."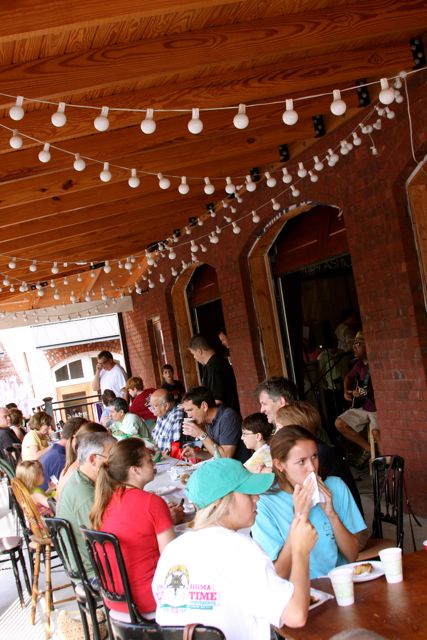 (whaley street farmer's market)
Also.
You may be a wife reading these words and thinking, "Huh, it wouldn't ever occur to me to say the words 'Anything but planting a church' to my husband."  And yet I felt the need to say them above anything else because I know my husband.  I know, deep in my heart, that his greatest passion and joy and desire—wherever he lives—is to plant new churches and see God fill them with people who don't know Him and see His Spirit mend hearts and relationships and communities with the gospel.
I saw him come alive to it when we lived in South Asia.  I heard others confirm his gifts, I heard a challenge from another missionary to David, "Brother, you need to be using your gifts of preaching and leadership."  And when we came home, I heard the many, many voices that said, "You need to be a pastor."  I've heard these things most of our life together.
As the weeks went by, as I began to feel healthy and safe enough to relax, to rest, I reached into the deepest part of my heart and discovered those very same desires were inside me too.
We looked into different kinds of ministries, "stable" ministries with regular paychecks, and while we were thrilled with a glimpse into what God is doing all over our country, nothing seemed like the right fit.
I felt myself slowly backtrack.  I asked the question, "God, who am I?  Who did You create me to be?"  And no answer, but the thought in my head, Well, what if we looked at starting on staff at a bigger church, then in a couple years we go out to plant a new church?
So we did.  We looked at Georgia and we looked at North Carolina.
It was about that time that David sat with two of his best friends, John and Kenny.  And they asked him the question: "Why are looking to move to a state in which you've never lived, where no one knows you, to plant a church?  Why don't you stay here and plant a church with us instead?"
The question came as a revelation.  David brought it home to me.  And at the risk of sounding cheesy, the instant I heard his words, I knew.  I knew.  A huge peace settled over my heart, spreading to the furthest anxious corners.
And I said, "Yes."
This "yes" came so certainly to both of us, that, though we had absolutely no guarantee of the outcome–no budget, no presbytery approval, no mother church, no core group–we began to pray for a house downtown, in the kind of neighborhood the church plant would reach.
And God gave us a house.  If you've come over, if you've walked these rooms, you know that it is the perfect house for our family.  Right down to those built-in bookshelves.  In October, we took a gigantic, terrifying step of faith and signed a 12-month lease on the house and moved in.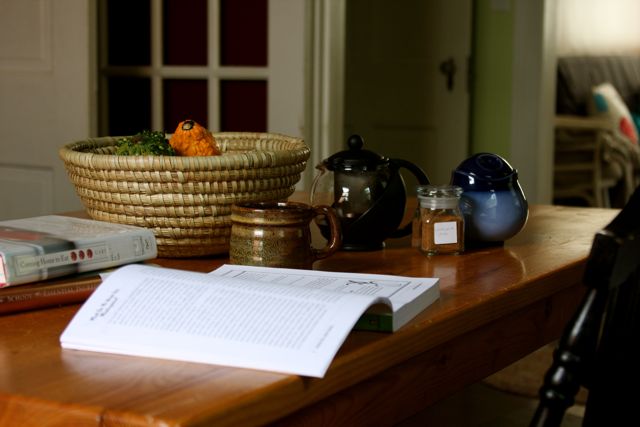 (home)
The months since then have been an outworking of that original revelation moment.  They've not been easy.  There was an enormous amount of work to be done to make the dream a viable possibility, and my husband and a couple of others have worked faithfully and prayerfully, day and night.
But those of us who've been along for the wild and bumpy ride recognize that all the work in the world couldn't have brought about this new chapter.  Only God.  There were many obstacles.  Logistical obstacles.  Also, our denomination moves carefully into new territory (and, believe it or not, downtown Columbia is new territory for us), not wanting to set up a church or church planter for failure.
We are so very grateful for the care they take with these decisions.  We're thankful for every single new friendship that's been made as we've worked our way through the process.  We're thankful for this time we needed—that we didn't even know we needed—to heal.  To fill up our tanks.
We're grateful for the group of people God is bringing together to plant this church with us.  They continually amaze and humble me with their heart for their neighbors and co-workers, with their generous giving, with their open homes and grace-filled words.
We're grateful for you, who have stuck with us, supported and prayed us through the long days and sleepless nights of setting one foot in front of the other, in faith, asking God to move one mountain and then another.
And in these months I've seen the course of my life stretch out before my eyes.  I've seen the church plants: Southwest Community, Sandhills Community, New City Fellowship, The Watershed Fellowship, the downtown church plant in South Asia.
I've seen the folks from each of those bodies who are still apart of my life today.  I've seen the careful preparation, the experiences, the joys and heart-aches.  And behind it all, I've seen the God who is always at work, using broken people, seeking and saving the lost.
And I've realized: This is who I am.
It's the people.  The family-style dinners after the worship service, the all-ages group of us pitching in, using our gifts, making mistakes, embracing the mess of a brand new church with its chaos and fun and demand for out-of-the-box solutions to out-of-the-box problems.  It's bringing newcomers into the family, getting to know them and watch them thrive in this lively, hopeful community.  It's the hardships: the hurt feelings and sometimes the parting of ways, but seeing God's goodness and reconciling love even in the pain.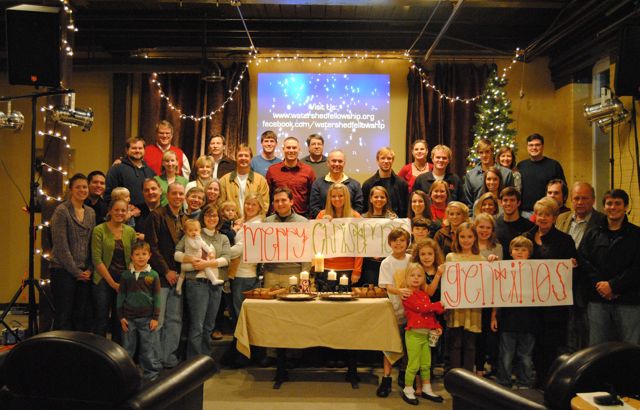 (christmas greetings from the watershed fellowship to s. asia, 2010)
It's the host of adults who poured into me all my growing up years, inviting me to teach children's church with them, to babysit their kids, to sit with them during the service when my parents were leading worship, asking me about school, praying for me.
It's knowing that all of those people still pray for me today.  They're my family.
There's nothing more I could want for my own kids.
And so this past Friday, February 15th, was a day that will be remembered and celebrated forever in the Gentino household.  It was the day our denomination officially said, "Yes."  It was the end of the hardest, saddest chapter of our lives.  And it was a beginning.  A much-prayed for, much-longed for beginning.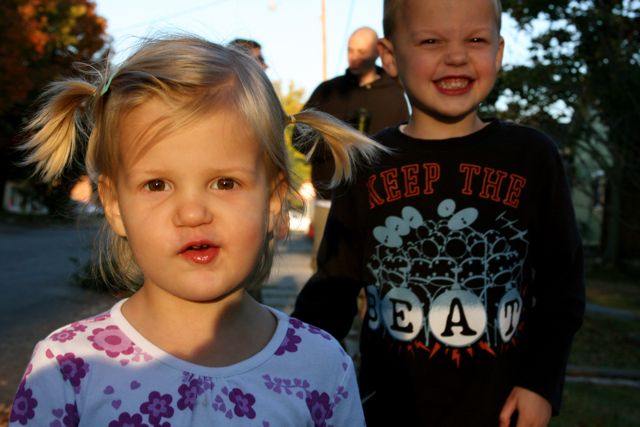 (our street)
It was God's fit-to-bursting smile of love.  He has seen us.  He has heard the cries of our hearts.  He knows me deeply and He knows my husband deeply.  And He's kept His promise: that He always calls us together, as a family.
Nowadays I drive down tree-lined River Drive toward our street, Mumford and Sons blasting on the stereo, and I cry for happiness.  Could this be true? 
My whole married life God has called me to leave home.  I've done it, for Him.  I'd do it again.  It hurt so bad and it changed this heart and most of all it helped me know that His love for me is deeper and wider and closer than I can imagine.
But now.
Could it be that after all the packing up and leaving, He's calling me to stay?
To live in this town I've known since high school, to run into old friends at the supermarket, to jog on its streets and sweat in its blistering summers and put my roots down deep in a place where they've been all along?
Never-in-a-million-years would I have dreamed this up.
There are no words big enough for this swell of happiness and gratitude in my heart.  So I bow my head, and give thanks.