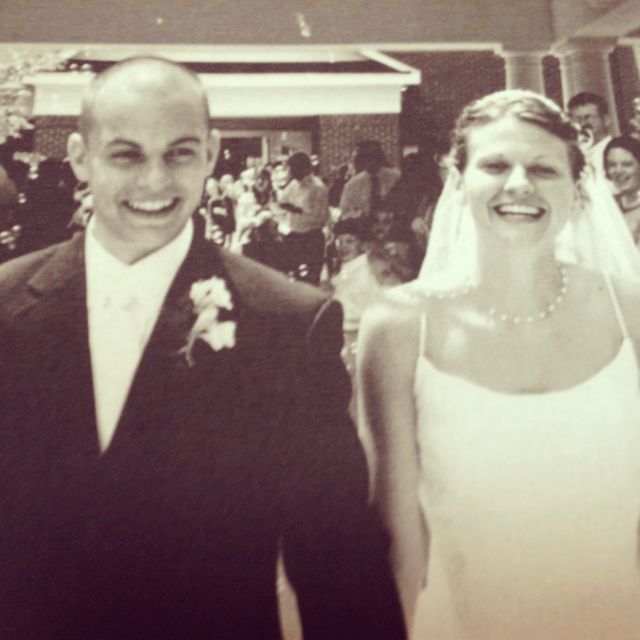 We did our premarital counseling with Jeff Philpott, my pastor from Sandhills Community Church.  I remember sitting with him and talking about marriage several evenings amidst our whirlwind of college classes and writing papers and part-time jobs.  Jeff had just celebrated ten years with his wife Michelle.  Back then it was impossible for me to imagine David and I celebrating one year of marriage, much less ten.
One thing Jeff said stood out in particular to me.  He said, "You know, over time those giddy, head-over-heels feelings that comprise all of what Hollywood calls 'love' change.  It's not that they totally go away, but they fade into something much deeper.  Over the years you go through hard times together.  You hurt each other and forgive each other.  You have babies and change diapers and experience true sleep-deprivation.  You live real life together.  And I wouldn't trade the love I have for my wife right now, today, for all of those starry-eyed feelings in the beginning."
I thought about that a little because I loved the starry-eyed feelings.  I loved being head-over-heals in love for the first time in my life and flashing my engagement ring and day-dreaming of our new life together.  And there was so much going on with wedding plans and school and finding a place to live that I tucked Jeff's words away into my heart for later.
And now.  Now, I know what Jeff meant.  I really know what he meant because I've lived it.  And I wouldn't trade anything.
I'm so very grateful for the husband God has given me and for the story He's given us.  Even the hard parts.  I pray that He will grow our love deeper and deeper through the real life of the next nine years.  I can't wait to see how He does it.