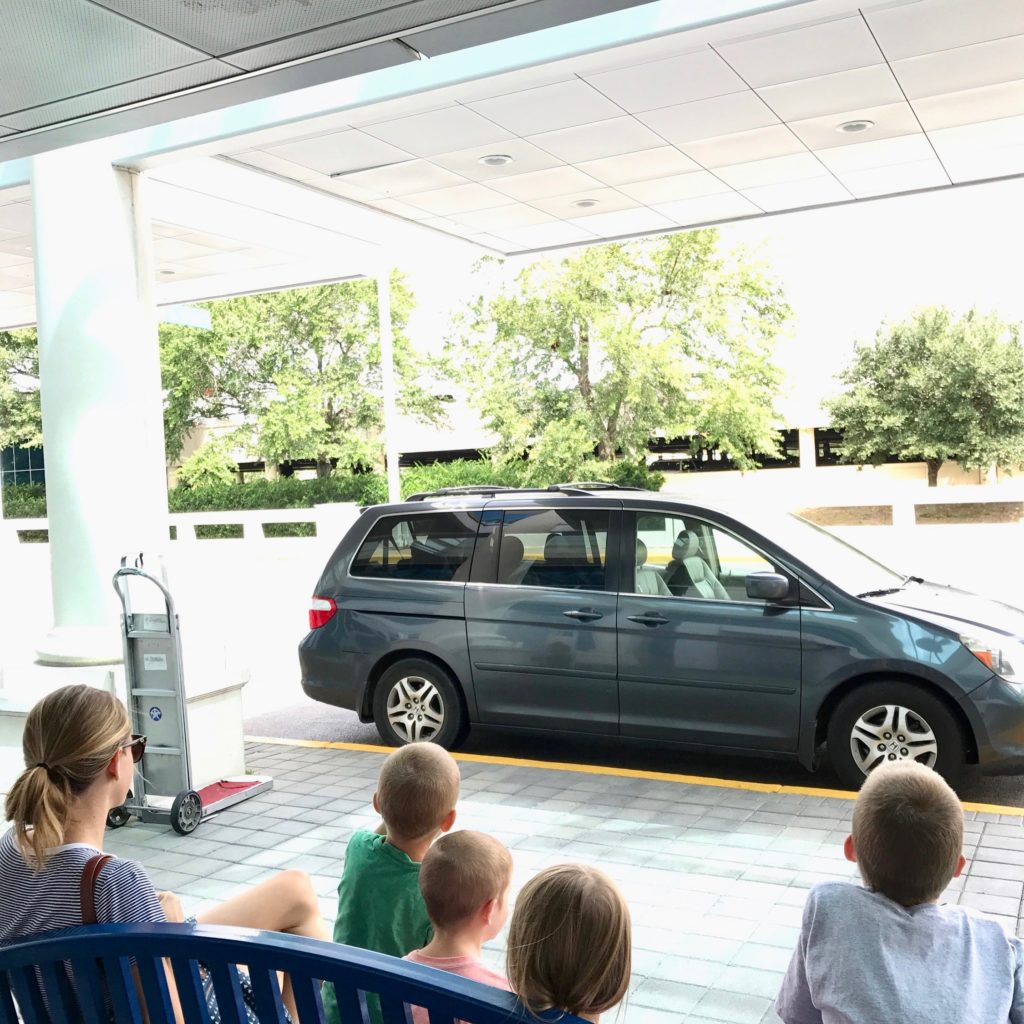 Three weeks ago David flew to Nashville for a pastor's training conference. Quite unexpectedly, as we turned onto the airport drive, our van began making very strange noises. Minutes later, it wouldn't transition from first gear. We had to turn it off and turn it back on multiple times to limp to David's departure gate.
And there we were, all six of us. Thankfully, it didn't happen on the highway. Thankfully it didn't cause David to miss his flight. Thankfully it didn't happen when I was alone with the kids. Or on our road trip to Pittsburgh that weekend.
There are a lot of things to be thankful for! Still, our dear Honda Odyssey van, which we bought a mere two years ago — the day before adopting the boys — was dead.
David raced to catch his flight, and his parents came to our rescue by calling a towing service through our auto mechanic and driving to pick us up. The process took awhile, and so I treated my kids to lunch in the Columbia airport lobby ($15 for four bags of Cheez-Its and a Clif bar). And we waited!
David spent the week in Nashville, and the kids and I used his Civic. Our mechanic told us that the transmission died (at just over 100,000 miles), and took a few other parts with it. The amount it would cost for all those replacements was close to the amount of money the van was worth. Ah well.
Judah isn't quite heavy enough to sit in the front seat, but was an emergency. David arrived home Thursday night, and Friday morning we rented a van for our long weekend in Pittsburgh.
It was actually fun to test drive a completely different van: a 2017 Chrysler Pacifica. We'd gotten a little spoiled by our Odyssey's DVD player, so it was also nice to take a road trip and realize we really don't need one. We listened to How To Train Your Dragon, by Cressida Cowell, on audiobook (highly recommend!), and brought toys and books for the kids and listened to lots of music.
After we arrived home we car-shared with Linda, and were very thankful we didn't have to rush to find a van immediately.
Our mechanic told us his top choice for a reliable minivan is the Toyota Sienna; Consumer Reports and lots of our friends seemed to agree, so we began looking for one after our Pittsburgh trip. After much deliberation, we decided to look for something newer with lower mileage, because we're dreaming of some big family road trips in the next decade.
We found it last week! It was a rental owned by the local Toyota dealership. They gave us a loaner car while it was cleaned and detailed for us, and we brought it home yesterday.
We're so excited about our Sienna — especially after squeezing into sedans for nearly three weeks (isn't it crazy how you take things for granted until you don't have them?). Our new van is more spacious and has more leg room in the back two rows than either the Odyssey or the Pacifica, which feels very important looking ahead to three teenage boys. We were a little bummed to lose the leather seats and some of the amenities of our EX, but the feature we're most excited to gain is the Bluetooth and GPS.
As we drove the van home, I told the kids I promised their Dad I'll drive it until Noah goes to college, at which point Noah became very depressed and said, "But I'll be scared in college. I don't want to leave you and Dad."
Noah, I wish I could record those words. We're so happy college is a long way away!
Save