Hi friends!
I thought I'd do a quick photo update post of what we've been up to the last couple of weeks.
If you can believe it, our church just had our first official church-wide picnic a couple weeks ago! It was a lovely, 70-degree Sunday afternoon and a great time was had by all. The consensus was: Let's do this more often!
And, now, onto the house update . . .
Weeks 4 and 5 have been all about framing. Yesterday the heating/air guys came, as well as the electrician. We asked our contractor if our friend Ben could do the electrical work, and it's fun having him apart of the project.
Seeing the walls and roof go up made it all seem so much more real! Currently we all climb through the windows to work/see inside. Our builder, Scott, is trying to wait as long as possible before he cuts the hole in our living room wall, which I very much appreciate!
Look at those nice, big windows! Don't they make the addition seem so cheerful?
In the meantime, David finished the chicken coop! He has a couple last touches to do, but the girls have lived out there for nearly a week now, and are doing great. We were a bit scared with this extreme cold snap we've had the last few days (it was 27 degrees this morning!), but they have all their big-girl feathers on and haven't seemed to mind a bit.
David and Amie still have to coax them up the ramp into their coop at night, but they make it down in the morning all on their own.
(Also you may be thinking: Girls? Are you sure? The truth is, we won't know their gender for a couple more months, but we like to pretend they're all girls)
It's an amazing feeling of relief to have that project over with.
Now I feel really dumb about the silly fights David and I had over it. Why did I care so much? Why did I have to prove my point all the time and generally be so difficult?
It's funny how that works.
We've had the strangest weather lately: weeks of 70 degree days, followed by snow flurries this weekend. Seeing ice mixed with a thick layer of pollen on Sunday was a first for me.
Just last week I organized everyone's clothes and stashed winter things in the attic! I literally threw away Noah's coat because it had officially been through four boys and had holes in it. So we've done a bit of improvising this week.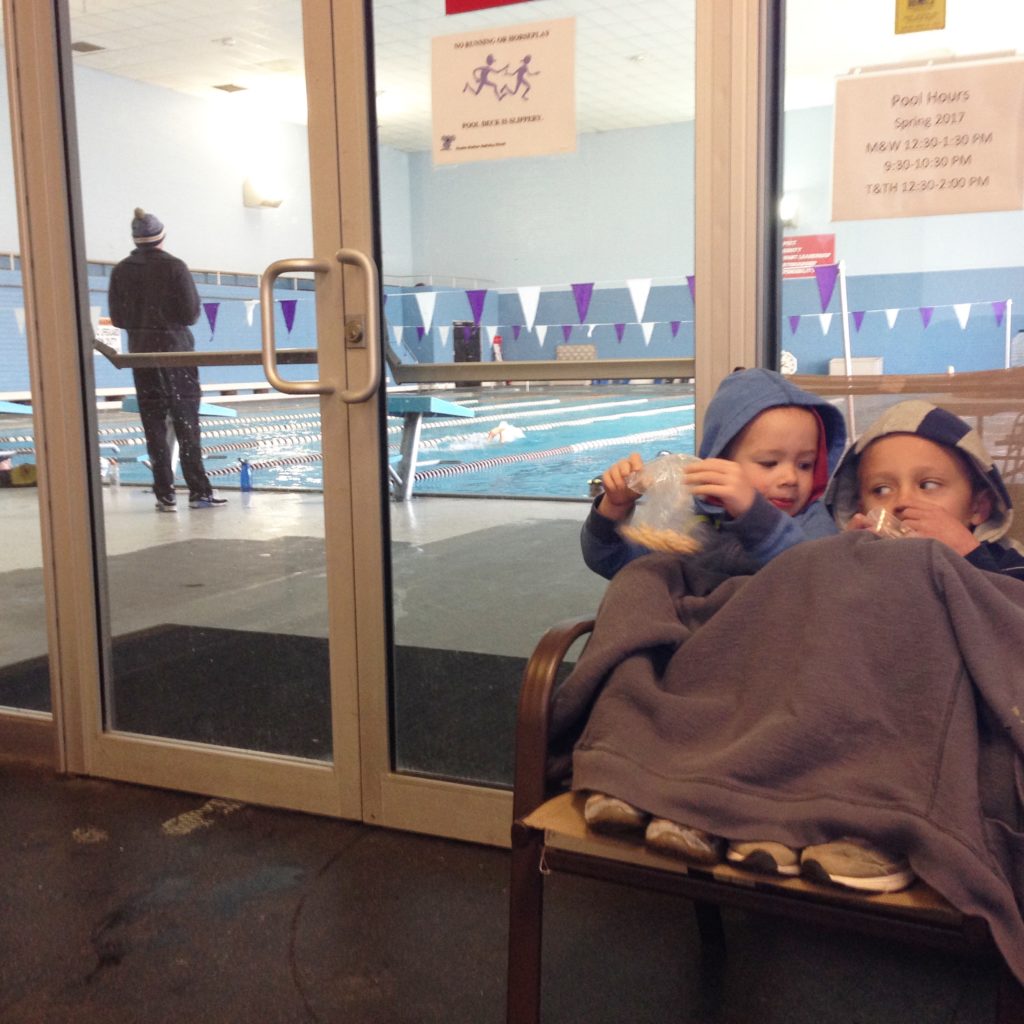 We all managed to venture out on this freezing-cold morning to swim practice, and were thankful to come home to hot chocolate and heat vents.
If Organization is one of my keys to staying sane right now, Routine is the other one.
With all the construction noise and interruptions, it is so tempting to throw our entire schedule out the window and spend hours scouring Pinterest for bathroom faucets and paint colors, but that makes everyone crazy (myself included). I've learned these last five weeks to allow interruptions to happen, and then as best I can, pick right back up with our routine afterwards.
We still do school. We go to CC and swim practice and play with cousins. I cook dinner. We have pretend "quiet rest time" in the afternoon from 1-3 even when the house shakes with drilling and pounding. Am I getting as much done? Absolutely not. I'm just doing the best I can and letting the rest go.
Routine has been our comfort.
Somewhat ironically, Judah chose to take a really big test for Classical Conversations called Memory Master. He's working on memorizing every single piece of information we've learned this year. The testing starts in three weeks, and so we're doing what we can in-between answering questions about light switch placement and shower tile. Thankfully we've been reviewing ever since August, which makes it not nearly so big and scary.
I just have to laugh at the timing of it all; also I'm very proud of my boy for how hard he's working even though I know lots of loud noise is not easy for him (he and I hate the noise; the other three kids seem totally oblivious, ha!).
We're getting down to all the fun interior details which I've daydreamed about forever, but still make my head spin. This weekend our roof will be replaced, and hardwood floors go in next week.
Oh yeah, I'm also head to a homeschool conference Friday and Saturday in Greenville, and we have our CPC New Members class at our house on Sunday! Hopefully all the new members will have a sense of humor when they see our craziness.
When the busyness presses in, I imagine myself laying on my bed under that lovely vaulted ceiling, in a room filled with light.
All of this is just the biggest gift. There are no words to explain it. I often have to remind myself that it's really, truly happening.
I walk through the shell of our new bathroom and walk-in-closet and it feels surreal. Lovely and surreal. Like living inside an Apartment Therapy post.
We heard all kinds of horror stories about builder/homeowner relations, but I have to say thus far our builder, Scott, could not be more pleasant and easy to work with. He's very experienced but never makes me feel like an idiot for the things I don't know. I've taken to asking his opinion about decisions, and I like his ideas.
We got a whole lot of rain this weekend, and since a portion of our roof is under tarps, we had some leaks, as you can see from the ceiling and the way we had to pull the bed out when water streamed down onto David's pillow the other night.
The good news is: Amie will get a new ceiling for her room! You can't really tell but the ceiling of this room has always been a strange, almost drop-ceiling-like material, because this room was actually an addition too. I'm thrilled to see it go. Tomorrow they will be sealing that window on the left off and make it a wall (our new bathroom is just on the other side!).  We also have an exterior door in that room, behind the door, which will be sealed off (pictures to come).
Isn't this so fun!?
Happy Hump Day!
Save
Save