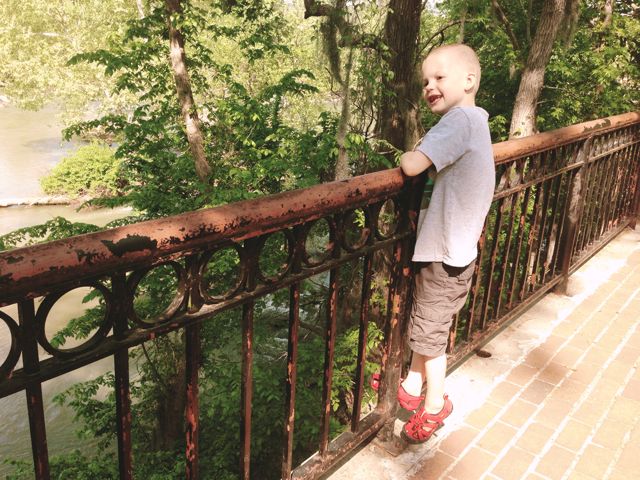 Right on the heels of my recent food posts, comes a new trial: gluten and dairy-free kids.
We have a couple health issues with the kids these days and a doctor recently suggested experimenting with a diet change. Don't worry, they are relatively mild things at this point, but we feel like it's worth a try now to see if symptoms improve and possibly prevent them worsening.
So today we are two weeks into a two-month gluten and dairy-free trial. The doctor recommended starting with eliminating these two foods because they're most known to trigger allergy/emotional/behavioral struggles.
The first week went amazingly well. I had a talk with both kids about our experiment and why we were doing it, and they were very positive. I planned out literally every single meal and snack of the week and did a big Whole Foods shop before it started. We spent lots of time at home because I was doing things like making vegan Nutella and trying to keep us all away from temptation.
The second week was when reality set in for Judah and Amie and lots of melt-downs ensued. We had a field trip, a birthday party, and were basically out in public at some point every single day. It sounds funny to say "out in public" but you have no idea until you're avoiding certain foods how much temptation is present in just about every single situation. It's one thing for me as an adult, but much harder for my kids. It's given me a huge amount of respect for kids and families who have severe food allergies.
And then yesterday was when I had my melt-down. I think reality finally hit me too: This is really hard, and I cried the whole 20 minute ride home from Whole Foods. I also realized it's been two solid weeks since our family has eaten out — which means two solid weeks of me cooking and preparing every. single. meal.
I'd been trying to stay positive, but I finally admitted this feels like a full-time job. A lonely job. I feel like during this season I'm the only person who can feed my kids at any given time because I'm the only one who knows how to read the labels or knows which foods are off-limits. I have to be two steps ahead of any situation — from the church pot-luck to their school end-of-the-year presentation — and have a purse full of Pamela's granola bars and vegan chocolate chips and organic lollipops to ward off any melt-downs.
It's been an exhausting two weeks.
I know some of you may be thinking I'm crazy: Why add this to your already full plate? Why make your kids go through something so hard?
Believe me, I get that. I've been so slow to make any sort of changes to Judah and Amie's diet in general because I want them to have a normal American childhood, have all the fun of birthday parties and field trips and Friday pizza night. I hate to deny them these simple pleasures because of some fad.
David and I go around and around about experimenting with diet. I know he worries about me. Because obviously the food responsibility in our home falls on my shoulders. And with already full lives, any change creates a lot more work.
But last night I told him, "Yes, this two-month trial is hard. And it may not end up being the answer for our kids. But if there's any way I can do something now to help them avoid some of the physical and emotional health issues I've had over the years (and the hundreds-if-not-thousands of dollars we've spent), I have to do it."
So we press on.
Another benefit of our little experiment is that it's calling attention to my ever-present struggle of over-busying myself and my kids. Even with homeschooling — without daily school drop-offs and pick-ups — I still often find a way to schedule the heck out of our week, doing "good things." Fun things. Things that bless other people. Things I don't want to miss out on.
But just because something is good and helpful doesn't mean I should do it. When will I learn that I can't do it all? Not only can I not do it all, but I shouldn't do it all.
And so while it seems like going gluten and dairy-free is adding another thing to my plate, I'm starting to see it as a freedom. It's forcing me once again to slow down, to say "no" more, to really see my kids and how they're handling the pace of life. It's making me to stop multi-tasking every second of the day and give them my undivided attention as they process this change to their little lives. I'm remembering that when I have time and inspiring ingredients, being in my kitchen is fun and energizing. I'd forgotten that.
I'm unbelievably proud of Judah and Amie, who have truly risen to the occasion and on the whole have way, way better attitudes than I imagined. They are already eating better than they were just two weeks ago. Amie now downs her morning smoothie without complaint, and will stand at the kitchen island where I'm chopping vegetables for dinner, snacking on some from each pile. Judah reaches for the bag of baby carrots in the fridge, "Because I want to be healthy and strong." They both amaze me.
I'll be sure to let you know the results of our little experiment. We're a quarter of the way there!