Hello friends!
I had a pretty wonderful Mother's Day yesterday — David and the kids surprised me with a new laptop! You've gathered from my complaining/intermittent posting that mine was on the fritz for a looong time, but I definitely did not expect a new one any time soon!
My last laptop was a refurbished Macbook Pro, which we bought in 2010, before moving to India, and I loved that thing into the ground. Now this one is the very first brand-new computer I've owned; it's a 13″ Macbook Air, and I'm smitten. It's so crisp! And clean! I have a "delete" key! And best of all — when I tap the keys, things that are supposed to happen, actually happen!
Anyway, sorry to gush, but this should mean that I'll be blogging a little more frequently!
Here's some of what we've been up to lately …
Can you believe that our church, CPC, is nearly three years old? This is Noah and his buddy PJ, who's been with us since the very beginning. He reaches for her as soon as he sees her.
I get tearful whenever I think of how our church family loved us through our adoption process and first year. Not only did they contribute generously toward our expenses, post-placement they prayed, dropped off meals, respected boundaries when our family needed to hunker down at home for awhile, encouraged, cried, laughed, prayed some more, and best of all, enveloped Gabe and Noah in love from the first day they met them, no questions asked.
We already love our zoo, but it just opened a huge splash park/outdoor play place for kids, and we checked it out one morning last week. It was great! I'd say it's geared a little more toward toddlers/preschoolers, but Judah and Amie still thoroughly enjoyed themselves and I think would enjoy it even more if we came back with some of their friends.
If you haven't been yet, my words of advice are: 1. Park at the Botanical Gardens entrance, 2. Go early, like right when the zoo opens at 9:00 am. After 11 it got so crowded — and summer break hasn't even begun yet!, and 3. Wear bathingsuits and pack a change of clothes for afterwards (I didn't wear a swimsuit, which was fine, but my flip-flops got soaked, so be warned!).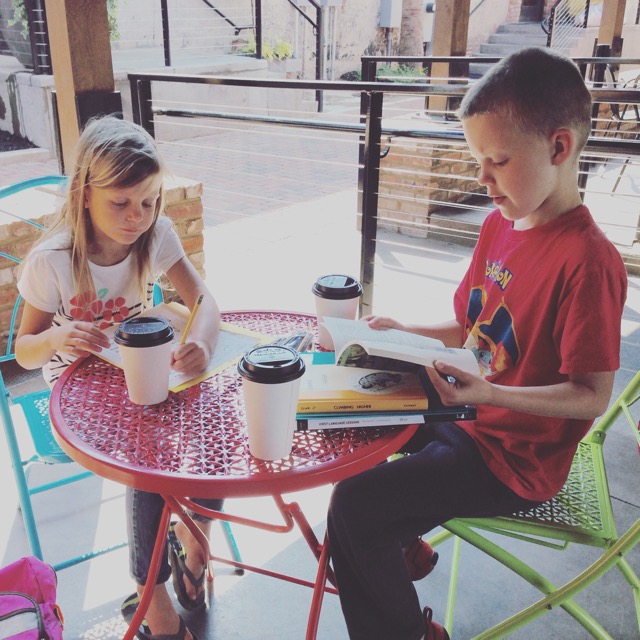 We're pressing on to finish our school year by the end of May. We worked hard this year, and so at the end have been spending lots more time reading aloud, and it feels very restful. Some friends invited Gabe and Noah over one morning, so I took the opportunity to take the big kids to a coffee shop for school. We sat and sipped our drinks and I finished a novel about a group of kids during World War 2, and we did a few worksheets. Any moments I get to connect with just one or two of the kids at a time feel like a gift.
The same friends that had the boys come play, noticed how much they enjoyed their son's water table, and dropped one off for Gabe and Noah later that day (again: the sweetness of our church family)! I'm not exaggerating when I say it has already brought our little guys hours of delight. Noah finishes breakfast, strips right down to his skivvies, then races outside to play with the water.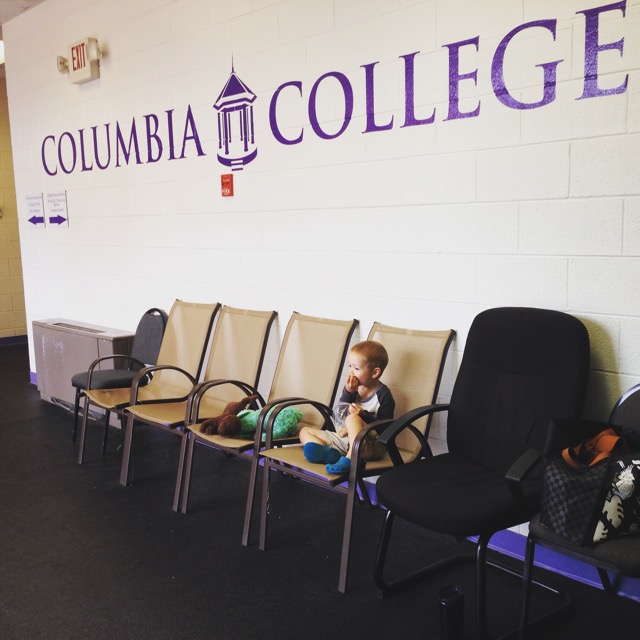 Speaking of Noah, this has been our set-up on Tuesday and Thursday mornings, when the big kids are in swim class. Usually there's at least a couple of other moms and a toddler or two. As of last week, Noah now does 10 minutes in the pool one-on-one with a coach to start getting him ready to join the others. He's not technically supposed to start until he's four years told, but he has been dying to get in the water, as you can imagine. He loved it so much that he burst into loud wails, when we made him get out.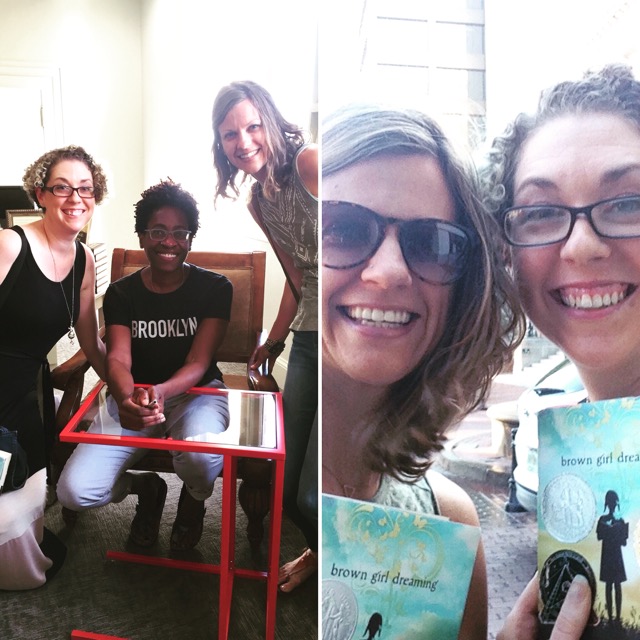 A couple weeks ago, my friend Jessica and I took a little road trip to Greenville, to meet one of our literary heroes, Jacqueline Woodson. We both love her memoir, Brown Girl Dreaming, and I've since read a handful of her other children's and young adult books, and enjoyed them too. We had a great evening stopping in at M. Judson book shop for the book signing, meeting Jessica's sister for dinner at the Trappe Door (a favorite Greenville restaurant), and then heading to First Baptist Church to hear Jacqueline Woodson speak on her writing and on growing up in Greenville and New York.
On Friday night, some friends got married in Charleston, and we drove with Kenny and Shari and stayed overnight! I've never been to a wedding in Charleston, and the reception for this one was at the Yacht Club — it was lovely to be right on the water. We haven't taken any sort of trip with Kenny (my brother) and Shari, just the four of us, since before we all had kids, and so we had the best time talking nonstop, squeezing into a hotel room, walking downtown in search of good coffee, hitting Folly Beach on Saturday morning, and rounding out our trip with fresh seafood for lunch.
And finally, we had an extended family gathering last night for Mother's Day, and my other brother, Danny, came in from Florence to hang out!
Now that I read back over my last couple of posts, I see that May is more an entire Adoption Celebration month, and that's a very sweet gift from the Lord. It was a long year, but He met us in it over and over again. I love spending this month traveling and celebrating His goodness together.
I'm working on a Summer Bookshelf post for you all, and am having fun doing it! This has been a great reading year thus far! Any interest in a children's bookshelf post too? I thought of compiling a list of our favorites.
Happy Monday!