Hi there! I'm overdue for a bookshelf post.
If my last list of book recommendations contained a lot of heavy reading material, I think this one will be more comforting.
When life feels heavy and stressful, I do one of two things:
1. Re-read the Mitford series
2. Read children's fiction
The lovely thing about great children's fiction is that while the language is simple, it's also spectacular and moving. The best writers of children's fiction know how to wrestle with real life themes in a compassionate way that doesn't crush readers. They leave us feeling hopeful. So you'll find a good bit of it dispersed throughout this post. Maybe you'll even find some Christmas gift ideas! I'll try to include a note with my favorites.
My Antonia, Willa Cather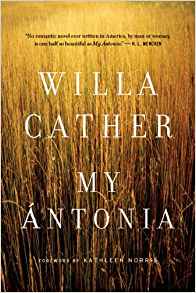 I started this classic as a teenager, but never got around to finishing it. I tried again a few months ago and found it breath-taking. Think of it as a grown up Little House on the Prairie. Then, at a used bookshop in Charleston I found Cather's novel O Pioneers. They're both lovely, but if you're going to buy just one, my favorite is My Antonia.
Saving Lucas Biggs, David Teague and Marisa de los Santos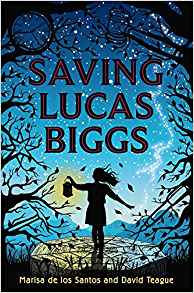 I enjoyed this middle-grade time travel book so much. It was a captivating, creative story that I think is appropriate for 10-12 year olds.
The Almost Sisters, Joshilyn Jackson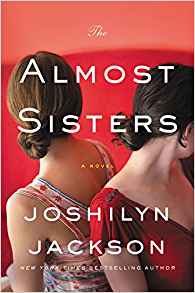 A murder mystery set in the deep south, Jackson's writing voice is fresh and winsome. I couldn't put it down!
Dear Mr. Henshaw, Beverly Cleary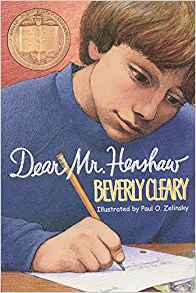 We're huge Beverly Cleary fans over here; Judah, Amie and I have portions of the Ramona series committed to memory from listening to the audiobooks over and over. I requested Dear Mr. Henshaw from the library for Judah and me. We both enjoyed it, although Judah's final pronouncement was, "It's really sad." Sad and hopeful too. A good book for walking around in someone else's shoes.
Vincent and Theo: The Van Gogh Brothers, Deborah Heiligman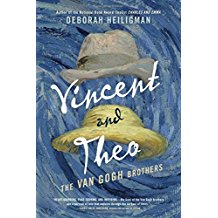 The kids and I are studying Van Gogh's paintings this semester, and a friend recommended this Young Adult book to me. It's quite sad, of course, because Vincent Van Gogh's life was terribly sad. But it brought him to life in the loveliest brush strokes. Heiligman's prose read like a painting at times. I absolutely loved the book and will have my kids read it one day. You might want to pre-read it before giving it to your teenager due to a couple of themes.
The Penderwicks: A Summer Tale of Four Sisters, Two Rabbits, and a Very Interesting Boy, Jeanne Birdsall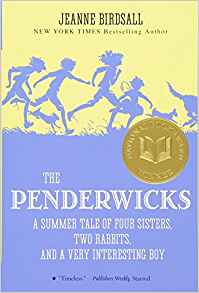 I can't recommend this novel highly enough. It came in our school curriculum for this year, and was also recommended by multiple friends. Judah, Amie, and I read it together during our beach vacation and were all completely charmed by the Penderwick family and their escapades. We've continued with the series, and are currently reading Book 3. I'd recommend it for 8-14-year-olds (especially girls, although Judah thoroughly enjoys the books with us). The audiobooks are great too.
Unseen: The Gift of Being Hidden in a World That Loves to Be Noticed, Sara Hagerty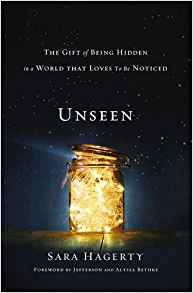 In her second book, Sara Hagerty shares her journey of learning to embrace hiddenness with God. I loved it, marked it up, met with a friend to discuss it as we read, and will be rereading it in years to come. I enjoyed her first book, Everything Bitter is Sweet too, but in my opinion this one is even better. This would make a great gift for a young mom.
The Green Ember, S.D. Smith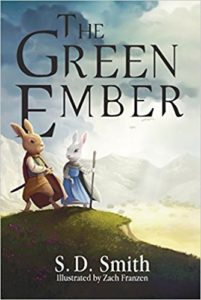 I bought this series for Judah after hearing Sam Smith speak at a conference in the spring. We both love it! His second novel, Ember Falls, is a cliff-hanger, and we're anxiously awaiting the final book in this trilogy. I'd recommend this series for 8-12 year olds, but think kids that are younger and older would enjoy them too.
The Bark of the Bog Owl, Jonathan Rogers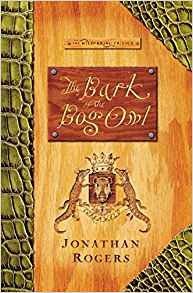 We bought the Wilderking series sight unseen on recommendation from Sarah Mackenzie of Read-Aloud Revival. I'll admit, I was skeptical when I discovered that it's a re-telling of the biblical story of King David. But I was astonished at what Jonathan Rogers did with a very familiar story. The characters are creative yet real, the setting is genius, and I laughed out loud many times. Five stars for this series; Judah and I will be reading it again for sure (recommend for 8-12-year-old boys).
The Secret Thoughts of An Unlikely Convert, Rosaria Butterfield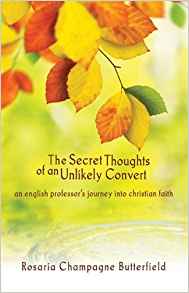 A friend loaned me this book of English college professor Rosaria Butterfield's conversion story, and I couldn't put it down. She's a wonderful writer, unique, honest, and bold, and it left me thanking God for His power to transform lives. I appreciated her personal journey of adoption as well.
To Be Where You Are, Jan Karon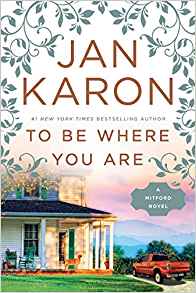 We all knew there would be a Mitford title on the list, right? This is Jan Karon's latest installment, which a friend sent to me as a gift. Truly I will never, ever get tired of Mitford. My mom summed how I feel about it best when she texted me, Just finished the newest Mitford and I'm sitting down to start it over again.
Little Women, Louisa May Alcott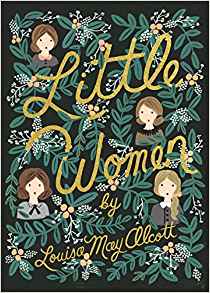 Now wouldn't this lovely version of Little Women make a great Christmas gift? It's only $12.80 on Amazon Prime! Be sure to check out the other classics by Rifle Paper Company too. I loved this series as a girl, but haven't re-read it since becoming a mother. I have to admit I enjoyed Little Women on a whole different level this time around. I want to be Marmee. I underlined several quotes, but here's my favorite:
"Yours, mother? Why you are never angry!" and for the moment Jo forgot remorse in surprise.
"I've been trying to cure it for forty years and have only succeeded in controlling it. I am angry nearly every day of my life, Jo; but I have learned not to show it; and I still hope to learn not to feel it, though it may take me another forty years to learn to do so."
Dark Enough to See the Stars in a Jamestown Sky, Connie Lapallo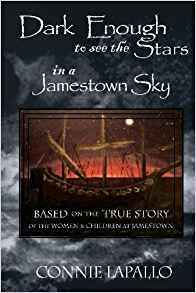 The big kids and I are studying early American history, and when I came across this title on Goodreads, I knew I needed to read it to fill in some of the gaps of the stories we're studying. The book starts a bit slow, but press on: it gets better and better. Lapallo's account of the settlers of Jamestown colony, through the eyes of one of the women, is powerful and heart-breaking.
Acting the Miracle: God's Work and Ours in the Mystery of Sanctification, Edited by John Piper and David Mathis
This was a great little book of essays about growing in Christ that I read slowly. I found it very practical and encouraging, and plan to re-read it.
Chronicles of Narnia, C.S. Lewis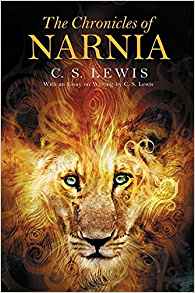 I know I mentioned this series back when we had our children's book club, but I'm including it here too. David and I started reading the Chronicles of Narnia on our honeymoon in Barbados, and so while I associate the stories with growing up in Orlando and reading aloud as a family, they also conjures memories of a white sandy beach and our little island cottage.
This is why I love reading books together. They become apart of our memories, and every time we re-read them, we also get to remember our own story. I enjoyed the novels in a completely new way this time around. C.S. Lewis is one of the best writers I know.
The Tech-Wise Family, Andy Crouch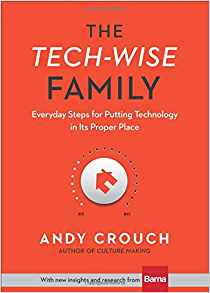 I'm a little disappointed in the title of this little book, simply because I feel like it limits its audience. I think everybody should read this. Andy Crouch has a beautiful way of calling us to wise living in our tech-filled world by giving us a bigger, richer vision of our lives. He shows us a vision of reaching beyond the distracted, entertained life for a life that's deeply connected with God and with people. His words are honest, inspiring, and practical.
Little House on the Prairie, Laura Ingalls Wilder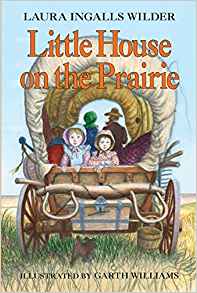 The first time I read the Little House books, I was an eight-year-old living in Barbados and attending international school. My mom must have spoken to my teacher about my love for reading, because I remember being pulled out of class one afternoon and led across a breezeway to a white building that I knew held the dreaded head-mistresses office.
Inside was a surprise: a door to a lovely, wood-floored room, lit only by the brilliant sun flooding across tables. There were books everywhere. The library! I was given a hard-cover copy of Little House on the Prairie. I read that book, loved it instantly, and was allowed to return to the library to check out the rest of the series, one novel at a time.
That's how I first discovered the Little House books, and I've been reading them ever since. Now my daughter is eight years old, and she's listening to the audiobooks and I get to fall in love with the series all over again.
Caroline: Little House Revisited, Sarah Miller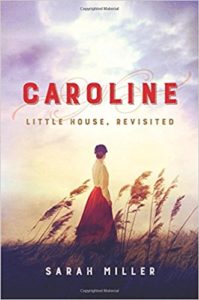 Here's a fascinating retelling of Laura's story through the eyes of her mother, Caroline Ingalls. She was a courageous woman. I was always disappointed with her opinion of Native Americans, but appreciate that Sarah Miller portrays her as a real woman, flaws and all. The American pioneer women were certainly not perfect, but they have my utmost respect for their endurance in the face of death, danger, and a world of uncertainty.
The World of Laura Ingalls Wilder, Marta McDowell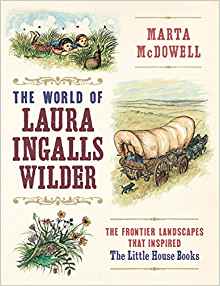 Okay last Little House book recommendation, I promise. This would make a great Christmas gift for a teenager or adult. It's pretty enough to sit on a coffee table and filled with the history and geography of the places Laura Ingalls Wilder lived. The author recommends reading it along with the series, and that's what I did. It makes the books come alive in a new way.
Happy reading!