I've had these photos in the queue for a couple weeks, waiting for a blog post, but David's been working so hard that they're are already outdated. Ah well. I'll show you what I've got and next week I'll post some more!
But first, a quick trip down memory lane. We bought this house because we had a vision for our backyard. We hoped the fact that the house was small (1,450 square feet)  would give us a good nudge to spend more time outside. In essence, we wanted to make a little homestead, complete with an "outdoor living room" where we could read and play and work and be. We knew that all of this would take time and money and work, but we felt it would be worth it.
Here's a reminder of what we started with, just over three years ago. We did have the concrete slab, but other than that the yard was quite overgrown with pine trees, ivy, shrubs, and weeds (and a random light post).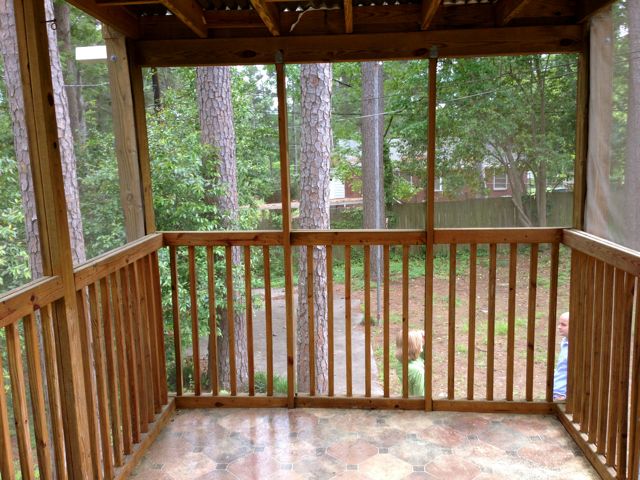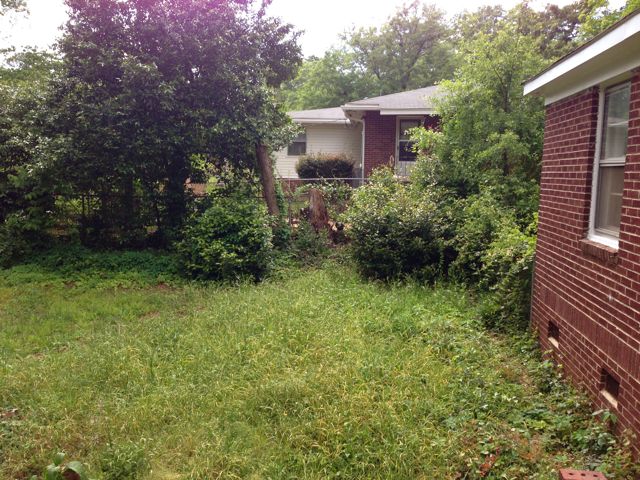 The two biggest projects we had done in our first year of home ownership were to have a privacy fence installed and 8 pine trees removed. David (and sometimes our friends) also did lots and lots of clearing, and he put in a raised garden bed — and rebuilt it when it was crushed during pine tree removal. Oh yeah, and built a play house from scratch, no big deal. David is nothing if not an overachiever.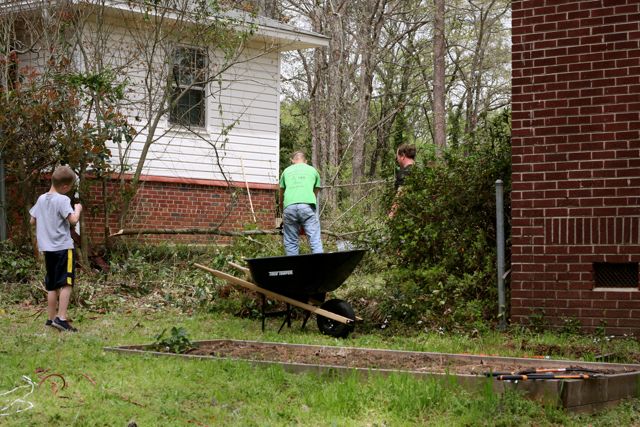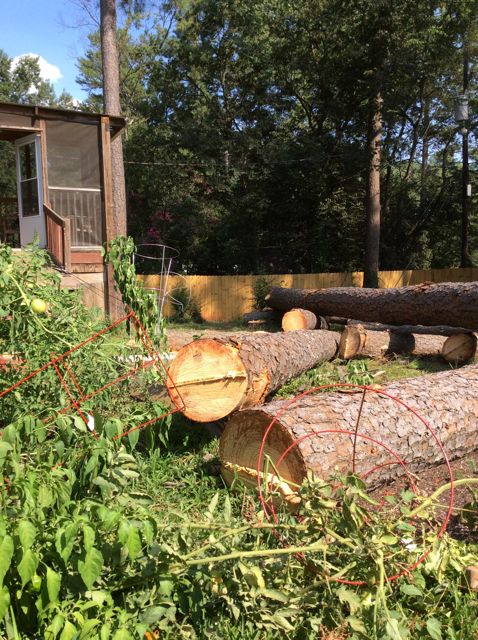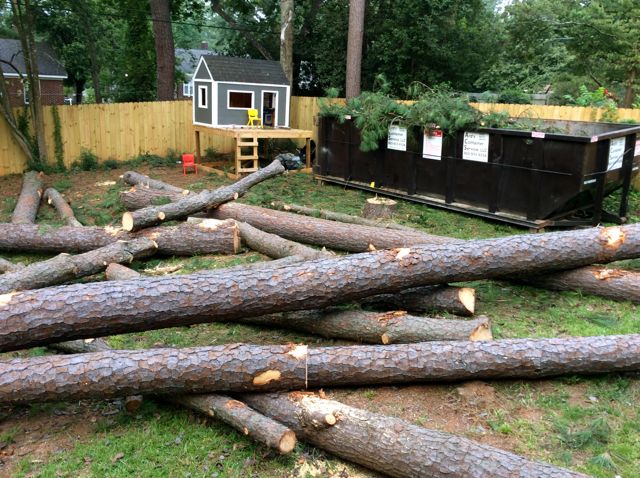 The very same month that his parents moved here from Pennsylvania, David corralled his dad to help build the pavilion, which our friend Spencer designed for us. And Steve has been very kindly doing projects for us ever since. Actually my mother-in-law and I have a joke: when I really want something done around the house, I ask Steve to do it, and when she wants something done, she asks David.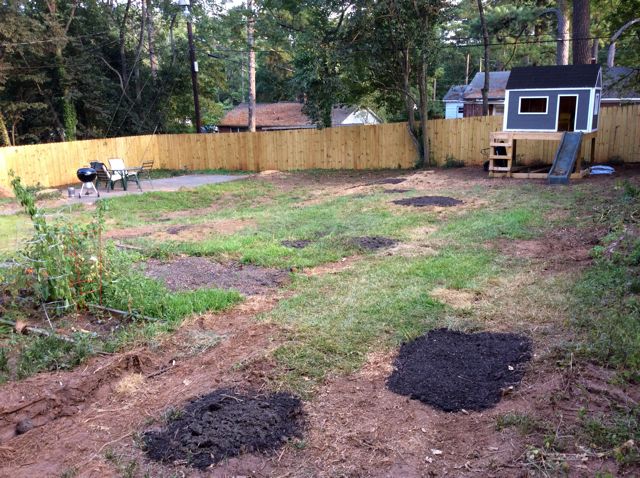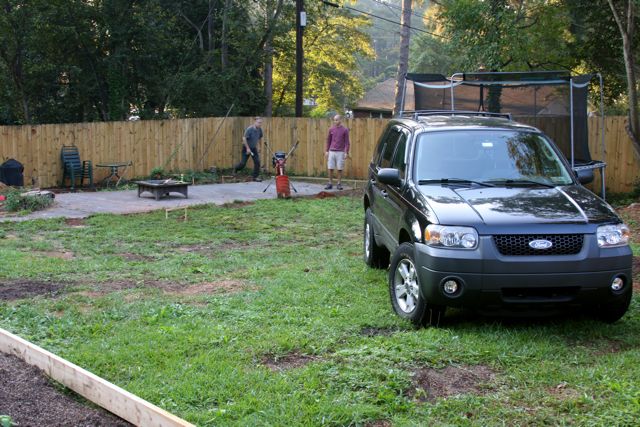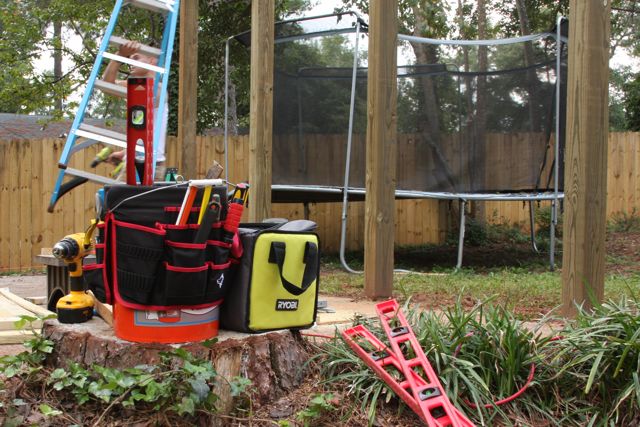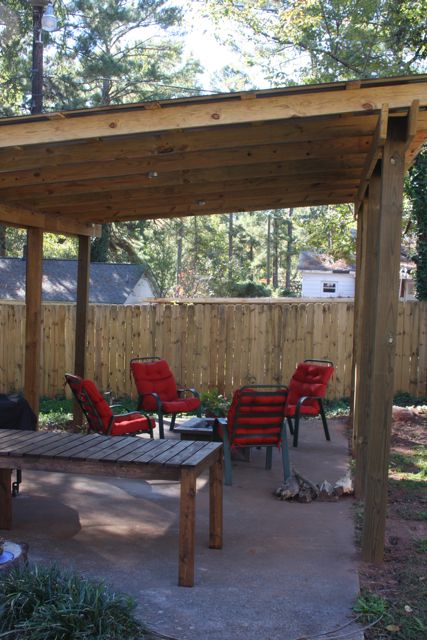 We finished the pavilion, we adopted two kids, and oddly enough, house and yard projects were nearly non-existent for a year.
The trampoline is the best investment we never made in our yard: it was a hand-me-down from some neighbors — right before Gabe and Noah came to live with us —  and has gotten more use than anything else in the yard.
We did decide to hire a landscape architect from a local nursery to give us a design for the entire backyard. This summer when we were ready to start seriously considering landscaping, we had two different companies come give us a quote for the backyard and were dumbfounded by the cost to have the yard landscaped for us.
So David decided to take those plans and work around the yard himself piece by piece. We're saving money by buying smaller size plants than the landscaper recommended and mulching with pine straw and doing lots of watering the old-fashioned way. Our shrubs and trees will grow and fill out over time — if there's anything we're learning as home-owners, it's that patience is a virtue.
And so, my friends, here's where we stand today:
If I had to sum this process up, I'd say the first three years felt like a whole lot of work and waiting. We've always enjoyed our backyard, but when we looked around, all we saw were the projects. More and more and more to be done.
But these days, we're having so much fun with our yard. Of course there's still more to do, but we've both been thrilled with the impact of beginning to landscape the borders, while we're also keeping up with the vegetable garden.
Now don't get me wrong: I do almost none of the grunt labor. My side of the bargain includes runs to the local nursery to buy what we need, and holding down the fort with kids and meals and laundry while David weeds and digs and plants.
You know what I find interesting about my battle with anxiety? It's keeping me home more, and therefore making me open my eyes to what's right here, in front of me.
Who would've thought I'd ever start gardening? That I'd care to learn the difference between a Camellia Sasanqua and a Japonica? That I'd remember to water both indoor and outdoor plants on a regular basis?
That I'd find joy in it?
Moreover, I'm surprised by the way running my hands through the dirt and emptying a red plastic Solo cup of water onto the base of a plant calms my very spirit.
I'm still a very, very beginning gardener. There's so much I need to learn, like when to prune shrubs and to buy my potted mums before they've bloomed so they'll last longer. David and I are a team; some days he weeds and waters, some days I do.
But I'd say the big difference is that these days I'm interested. I want to learn this new vocabulary. I daydream about what annuals to plant in the little bed next to the pavilion next spring, collect plant clippings from my mom, and ask my mother-in-law how to deal with the slugs that seem to be taking over our yard this month (ugh). I adore popping by the nursery during my afternoon out and peppering the staff with my questions.
Isn't it funny how embracing a new hobby is like having a light bulb turned on? You suddenly see the world in a different way. On my run I study neighbors' trees and bushes and try hard to remember their names. I reread At Home in Mitford and notice every single reference to Father Tim's garden, building it in my mind's eye.
By now I can tend a planted bed! I found out how to turn my browning aloe plant green again (filtered sunlight)! I can water and pull weeds and clip kale. I can even, under duress, remove and kill the caterpillars that ravage our leafy greens.
Mostly I feel so very grateful that we haven't moved, that we've stuck it out in this one spot, with its limitations and aches and pains. There is no perfect house. There's no perfect yard.
But there's something that feels very right about doing what we can to make this place we live better than we found it. It feels good to take over our yard, bit by bit, to beat back the ivy and the pine needles, and to create new soil with compost and attract butterflies and bees.
There's something very right and very peaceful about having eyes to see and enjoy right where we are.
Save
Save
Save
Save
Save
Save
Save
Save
Save
Save
Save
Save