Here's the story of our first ever backpacking trip:
David was in charge of finding a location and rounding up camping gear, and I was in charge of food.
He decided on a 12-mile stretch of the Foothills Trail, which starts in Caesar's Head State Park, SC (near Greenville), and extends 76-miles up into Western North Carolina. A couple of our friends had just spent two nights and three days backpacking there and told him that it was great: very quiet and scenic.
David's done some car camping with the kids on and off and camped on a couple guy adventures, so we've collected gear here and there over the past few years. Most recently, he purchased a great two-person backpacking tent on sale at REI, and a second backpack. The backpack is a youth size, so it can be adjusted to either fit me or Judah. The rest we were able to borrow.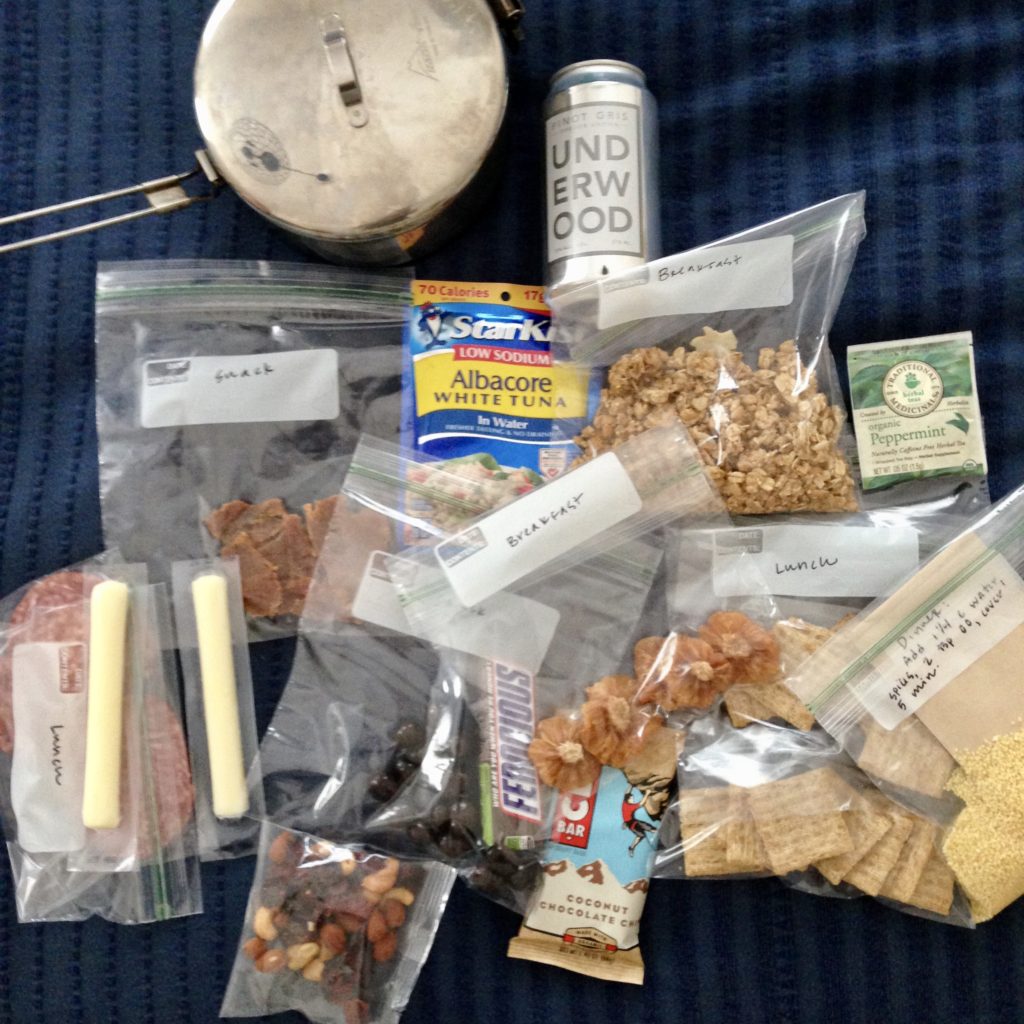 I had so much fun planning out our food! Pinterest was my friend.
I found a couple of great posts about portion sizes for backpackers, and this one about using Trader Joe's for backpacking. A big thanks to the people who shared ideas and made our trip better!
A couple of you have asked specifically what we ate, so here you go:
Lunch (both days): Triscuit crackers, salami, cheese stick (salami and cheese can keep for up to 5 days in a backpack if it's not too hot out)
Snacks: nuts, Snickers bar, Clif Bar, Turkey Jerky, dark chocolate covered espresso beans (a small handful did the trick for the afternoon slump)
[If you want a real treat, our two favorite Clif bar flavors ever are the coconut chocolate chip and the nut butter]
Dinner: we split one box of couscous and added olive oil and a pack of tuna
If you camp you probably know about the pocket rocket stove, which we've used for awhile. This is probably our favorite camping item. You can still build that romantic campfire, but can also cook your dinner at the same time. We used it for morning coffee as well.
Breakfast: dry granola and TJ's dried pineapple, coffee (we didn't want to drink instant coffee, so we brought our small plastic Melitta drip cone and a filter)
Okay!
Like I said, I carefully portioned out the food so it wouldn't be too heavy. We ate a big brunch in Greenville before we began hiking, and a late lunch Friday after we finished. We had almost the perfect amount of food: neither of us ate our turkey jerky or nuts, but they were certainly nice to have.
Do you know what the absolute hardest part of the whole trip was?
Getting ready.
Oh my goodness, I almost lost my mind Wednesday afternoon after taking four kids to Wal-Mart for last-minute supplies, writing out babysitting details for Linda, trying to portion food and choose the clothes I needed, all with four little people clamoring around me, wanting to burrow in the sleeping bag and try on the backpacks.
Yep. That was the craziest, most stressful part.
But not to worry: it was all worth it!
David's mom kept the kids Thursday and chauffeured them to swim practice and a birthday party for the oldest two, then to their cousins' house for a sleepover. Shari kept them until Friday mid-morning, then Linda picked them up. They had pizza with their grandparents Friday evening and then came home.
Thank you, thank you to our family for taking on four kids to make this trip possible.
It was the first time David and I have been away just the two of us since we adopted the boys two years ago. It was much-needed.
The trail was 2 1/2 hours from our house. We left at 7:00 a.m. Thursday and drove to Greenville first for breakfast at Biscuithead. Please try this place if you're in Greenville or Asheville. It's delicious!
We hit the trail by about 11:00 a.m. and hiked 12 miles in 6 hours.
Was I nervous about this trip and the hike?
Well, yes, I was.
I've never in my life camped at all — not car camping, not backpacking — and I haven't hiked more than about 6 or 7 miles at once. I know, it's kind of embarrassing how un-outdoorsy I've been until this point in my life. But it's never too late to change, right?
And like I mentioned, this trip was my anniversary gift to David, and he was certain I could do it.
So I channeled my inner Cheryl Strayed and told myself, "I got this."
It sounds silly, but just thinking that helped me a ton. I never once let myself say, "I don't think I can do it," even when I was tired and achey and scared of bears.
The trail was just beautiful. It was so quiet that in two days we saw only two other campsites. That's it.
The weather was perfect but I don't think we'd go back much after mid-June. The mosquitoes were okay, but the gnats were a thick cloud in the afternoons. Probably better to go in April or May — or in the fall.
So, can I just say that it's one thing to hike 24 miles in two days, but it's another to do it with a 25-lb backpack!
That thing took some getting used to. We each had a Camelbak hydration system, which is great for any kind of hike (we always take at least one on our family hikes too). I love drinking water as often as I want and never feeling dehydrated. We borrowed a water purifier from a friend and used creek water to refill.
We hiked past two waterfalls and our campsite was along a creek just a few yards from a lovely lake.
It was really, really fun to cross the border into North Carolina on foot.
I loved our little campsite. There are so many great campsites on the Foothills Trail. It's very remote, but the trail is well-marked and cleared. There are campsites at regular intervals cleared with make-shift fire pits. This was nice to discover because we'd like to take Judah backpacking there but not hike quite so far.
Just beyond our tent was the river, which made the perfect background noise.
We arrived at the site a little after 5:00. Because David is nothing if not an over-achiever, he felt the need to then go ahead and run "Heartbreak Ridge," a fantastically steep stretch of a mile or two just beyond our campsite.
I felt the need to take off my shoes and socks and plop my sore feet into the river.
You guys, backpacking is a sweaty, dirty business.
There's nothing that says "true love" quite like cozying up to someone who reeks of body odor as much as you do. Wet wipes help take the edge off.
But I just have to say that it was perfect. It was so quiet. I mean, we were the only two human beings for miles. There was the sound of the rushing water and a slight cool breeze to the air and David off trying his best to start us a campfire with piles of damp wood.
The peace was all around us, and for someone who has struggled greatly with social anxiety in the past couple of years,  I couldn't help thinking, "Now this is a vacation." All I've wanted so many times was to be completely, utterly alone, and suddenly we were.
My heart rate slowed down just a few notches.
We ate our little dinner sitting on a log by the fire, then walked to the lake to listen to the bullfrogs.
As dusk fell, we sat by the fire with peppermint tea and read from a slim volume of Wendell Berry poems I found at a used book sale years ago.
Here's what I was most scared of about camping:
1. Bears
2. Having to pee outside our tent in the middle of the night
David (for some reason) read an except from his Foothills Trail guide that let us know our particular grove of hemlock trees makes a pleasant campsite, but seems to attract bears.
We packed our food carefully into one pack and hooked it to a (very un-sturdy looking) tree branch, and hoped for the best. We got settled in our tent and took turns reading from the book of John until we felt drowsy.
Still, I had some wide-eyed moments in the dark after he drifted off to sleep, thinking, What the heck have I agreed to!? I lay there conjuring up Reader's Digest articles involving bears and campers, trying to plan an escape strategy (didn't all the people in those articles end up maimed or worse?)
But somehow, magically, I slept!
We both did!
We actually slept from 9:30-7:00 am, if you can believe it. It was blissful. Yes, I had to pee at one point, and yes, I survived it.
David made us coffee and I packed up the tent and we ate a quick breakfast.
Then we hit the trail for home.
My whole body ached, but it wasn't terrible. It actually felt much easier waking up first thing in the morning and hiking rather than after a road trip and big lunch the day before.
I'm not in bad shape, but not in great shape either. I've gotten sloppy about running — just a mile or two once or twice a week — and that is no good. Honestly, it was good to have a wake-up call like this, to realize, "This experience could be so much better if I would build up some more endurance and do a little strength-training."
The last hour was very rough. I tweaked my knee on all the steep downhills and David carried my pack a couple of times. Thankfully I didn't get blisters until the second day. I love my hiking shoes, but next time I'll invest in some Smartwool socks for better support.
But I did it!!!
We reached the parking lot in 5 1/2 hours. I've never been so happy to see our little gray Civic. Oh man, we were so dirty and sweaty. Have I mentioned that already?
It was 2:00 pm by the time we drove 30 minutes to Traveler's Rest, just outside of Greenville, and we tried to eat a celebratory lunch at Tandem, which as you know is one of our favorite places ever, but it was closed, so someone directed us to Upcountry Provisions, just a couple of blocks away. We had delicious sandwiches, but the sandwich cookie desserts were to die for.
We pulled in our driveway at 4:30, and I could barely walk to the house. But those hot showers sure felt amazing.
You guys, I'm so, so happy we took this trip.
To many people it will seem a small thing (my friend Martha did the same hike with her sister and then went on to hike 20 miles the second day), but it felt like a victory for me. I'm not an adventurer.
Well, I can be with travel but not really with nature. To illustrate the difference between the two of us, here is an actual conversation we had in India:
David: "Let's plan a camping trip!"
Julie: "Absolutely not. We live in India. This is camping."
David: "Come on babe, it's our one chance to camp in the wild with white tigers and elephants."
Yep, that's the person I married (he then went on to take that camping trip with some friends. And yes, they saw tigers in the wild).
David always pushes me. Sometimes it creates strain between us (okay more than sometimes). But I feel like he knows things I'm capable of that I don't believe I can do. In that way, he has forced me to be a stronger, better person.
This trip was one small example.
It felt really, really good to take on a small challenge and overcome it, to say, "Hey, I'm stronger than I thought I was."
I want to be the kind of person who sets that example for my kids. I want to teach them, "There are many struggles in life that are worth experiencing. Pushing yourself to do hard things can be so healthy and rewarding." I think it also gives us a glimpse into the truth that even hardships we didn't choose can build up our character and make us resilient and strong inside, if we let them.
I loved our backpacking trip and can't wait to go again.
Save
Save