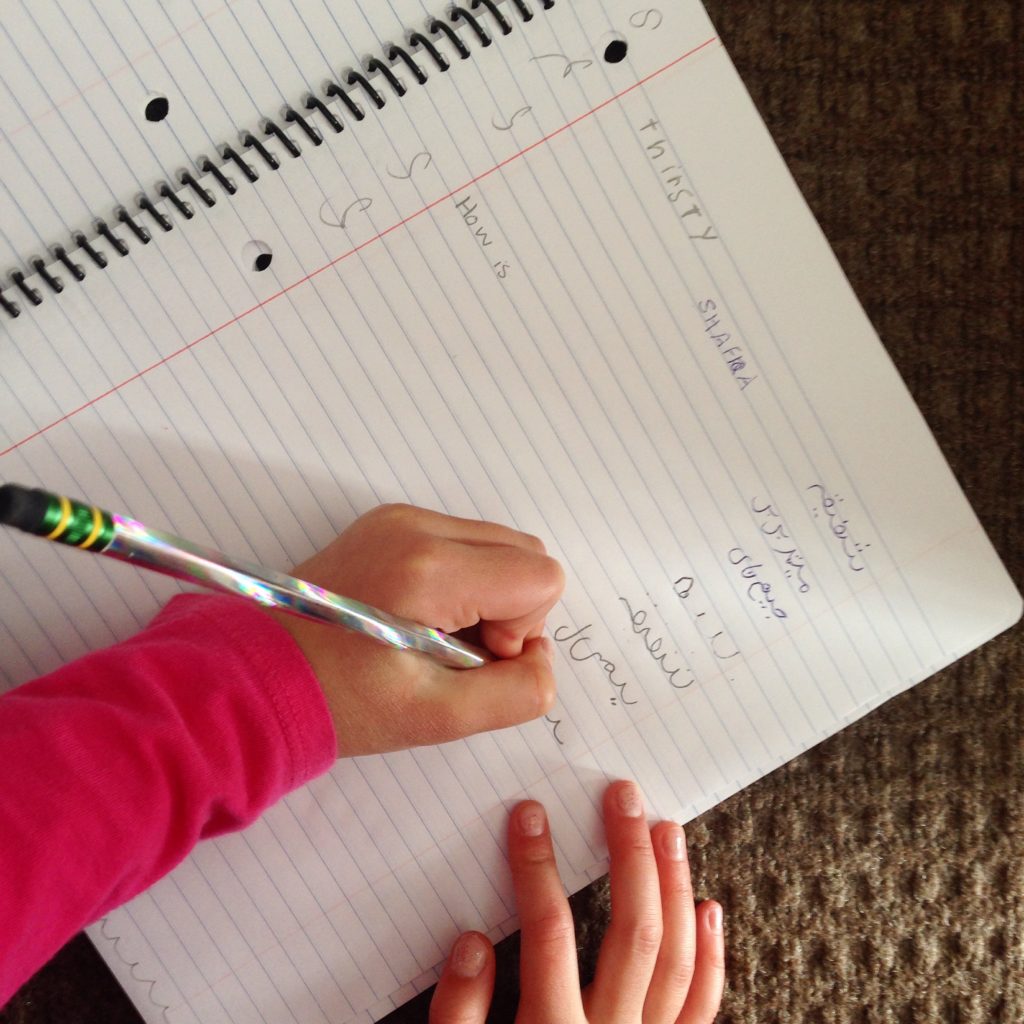 On Tuesdays at 1:00, my mother-in-law, Linda, comes over to sit with my kids. She reads or works while they have their afternoon room time until 3:00, then walks them two streets over to her house to play until 5:00.
Tuesday afternoons are one of God's gifts to me in this season. For the past six months I have exercised, gone to counseling appointments, scheduled my trip to the dentist, and run errands in a blessedly quiet van.
My counselor is so great that she works herself out of a job; currently I'm seeing her once a month, which leaves many Tuesdays wide open. I guess ideally I would use those afternoons to write, but like I shared with you, recent attempts to do this have me sitting in Starbucks, drinking tea and staring blankly at my computer screen. Or even worse, browsing Pinterest and Apartment Therapy for two hours.
So this month I'm trying something different.
This week, before Linda arrived, Amelie and I scrambled to load up my purse with a stack of white paper, kids' scissors, and scraps of dollar store stickers, then when she got here, we set out to visit our friends.
If we drive downtown south down Huger Street, we can hang a right on Taylor and find ourselves in West Columbia. Just eight minutes or so from our house, before you hit the string of restaurants and Lexington hospital on Sunset Blvd, tucked into a side street, is an apartment complex.
Our new friends from Afghanistan live there. God plopped them into our lives, literally out of the blue, last month. A friend at church spends a lot of time with refugees, and met a couple of families. One family was looking for an English conversation partner for the mom/wife, and the other some after-school tutoring for their sons.
David passed along the email and asked, "Should we meet them?" And I said "Yes!"
You may remember my New Year's resolution of making friends with people different from me.
I had that growing feeling inside of me but looked around at my daily life and said, "Lord, can you help me with this? I don't know where to start."
And so David responded to our friend, and one of the Afghani families immediately invited us for dinner. All six of us.
This did not surprise us one bit. In our time spent in other countries, we've been enveloped by the goodness of cultures far more hospitable than our own. It has soaked into our very bones and changed us from the inside out.
So Amelie and I pulled up to Shafiqa's apartment on Tuesday and knocked on the sliding glass door and kicked off our flip flops as she opened it wide, beaming. She pulled us into big hugs and urged us inside. Her four-year-old daughter Ranna hopped around with glee and laced orange-coated fingers with ours to come see the big pail of cheese puffs she'd gotten into.
Shafiqa is expecting her fourth child this spring. She stays home with Ranna during the day while her husband goes to work and her two elementary-aged sons take the bus to and from school. And so her life is motherhood and laundry and cooking and boisterous children, just like mine.
Her apartment has no furniture, save a small TV stand in the corner, and a little round kitchen table. There are low cushions on the floor against the wall, which enchanted all of my children when we went over for the first time. What delighted the kids even more was the big vinyl tablecloth Shafiqa spread on the floor at dinner time, which we all gathered around, sitting cross-legged.
The plan is for me to visit Shafiqa most Tuesday afternoons for an hour and a half or so to practice her English. I text to make sure it's good for her (it always is) or to let her know if I can't come. Her English is limited, so I'm gathering ideas on the fly of what she wants to learn and what to focus on first. I neurotically pull out my bullet journal to record ideas, which makes her laugh.
I'm  discovering that she is an ardent student. This week we sat on the floor together and worked on English phrases (basic greetings) and some vocabulary for an hour. It's slow going, mostly because we can't understand one another. I downloaded an English-Pashtu app on my phone and attempted to translate sentences for her. That's when I learned that she can't actually read Pashtu.
She told me that in Afghanistan she was not allowed to go to school. She told me, in short words and mostly with hand motions, what the Taliban does to girls in her village who try to attend school, how glad she was to leave, to bring her children to a land where they can read and write and be free.
And then I had to somehow turn and explain to curious Amelie what all of this means.
Suddenly I understood everything, and said, "Shafiqa! Do you want to learn to read English?" and she said, "Yes!"
I said, "And then if you learn to read you can drive!" and she said, "Yes, yes!"
You know what? There are a lot of things I can't do, but I can teach someone to read!
Not only can I do that thing, but I enjoy doing it!
Now it's crystal-clear in my mind. We will read and we will speak.
Mostly, I think, we will become friends. I can't wait for next week.
You know what my seven-year-old was doing this whole time? Entertaining Ranna, making crafts with stickers, chatting, asking Shafiqa how to write her name in Pashtu. My beautiful girl, who not two hours before was sitting, crying over letters and numbers that get mixed up and turned around in her head, was just beaming and happy.
After our lesson, Shafiqa jumped up and served us fresh-made Pakoras with mint chutney. She loves that we lived in Bangalore, loved seeing photos of me in a sari and salweer kameez. Shafiqa learned Hindi by watching Bollywood movies. Her mother has spent time in India, and Shafiqa wears Indian clothing, with a simple scarf over her hair. Much like the Muslims in our Bangalore neighborhood.
She knows that I love Indian food, and so she makes it for me when I come over. Amelie, who cut her teeth on spicy masala dosa and sambar dal, gobbles it up too. She says, "Mom, I remember this Indian food!"
Too soon, the boys traipse in from school and ask in perfect English where my other kids are, why I didn't bring them over, when they can come play at my house. We chat and Amie and I pack up and say our good-byes and promise to come next week. Then we run our errands together: Wal-Mart for an air-conditioning filter, and Grease Monkey for an oil change, with a quick, necessary stop at Dunkin' Donuts of course. We have fun together, just the two of us.
You know that I've been in a bit of a tired slump lately.
I thought that what I needed was more alone time, but when I had those hours I didn't always use them well. Sure I'd go for a run, but I'd also sit staring blankly at Starbucks, or drive to Target and Michael's craft store to spend money I don't need to spend. I'd coming home from my afternoons out tired and listless, not wanting to face my family and my chores.
Suddenly, like a light bulb, I realize that I don't need more alone time.
What I need is to find the thing God wants me to do, something which will make me come alive, and do it.
In the past few months, my counselor has talked a lot to me about motivation.
She said, "Julie, commitments and relationships aren't good or bad in and of themselves. What you need to start asking yourself is, 'What is my motivation for doing this thing — or seeing this person?'"
We get ourselves into trouble by doing good things with bad motivation: because we feel guilty, maybe, or to impress people, or simply because we feel like we "should" do it. She asked, "How many of those things do have in your life right now? What needs to change?"
Sometimes we can have a great motivation, but it's just plain bad timing. In this season, at least.
In another season, it may be the perfect thing.
And so, that is the long and short of how I came to spend Tuesday afternoons sitting on the carpet with my friend Shafiqa using exaggerated hand motions and short phrases and laughing a lot, and leaving her apartment with a spring in my step.
Now I want to bring one or two of my kids every single time. She adores them, and the feeling is mutual. I want so badly for them to find the joy I've found in making friends with people who are different from us; even if we live right here in Columbia, South Carolina, rather than in overseas. They are already doing it.
Maybe I don't need to escape my children on Tuesdays so much as find something I'm passionate about, and bring them along.
And of course wonderful Linda says to me, "No matter how long it takes, drop them off at my place and go for your run at the end of the afternoon: I'll just let them dig in the dirt a little longer."
Save
Save
Save