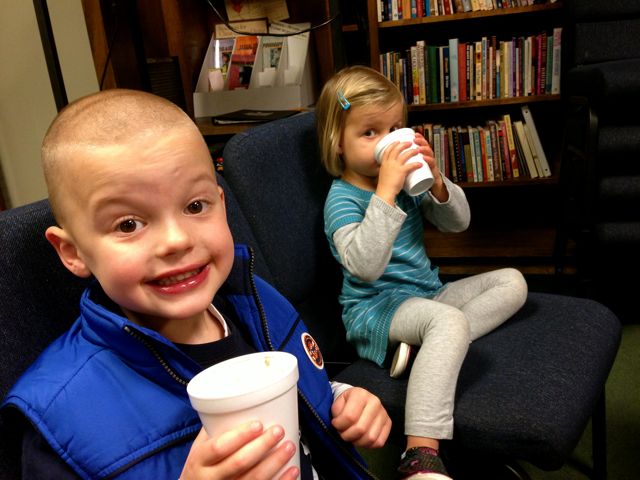 We spent the weekend at a missions conference in Greenville, SC, just an hour and a half up the road.
I was surprised by the flood of emotions I experienced.  Arriving at the church Thursday afternoon, setting up our South Asia display board full of glossy photos, I was filled with a gaping sense of loss.
We last visited this church three years ago as hopeful, enthusiastic missionaries-to-be.  We had a dream to share and we were overwhelmed and heartened by the support and encouragement we received from the folks there.
But this year. This year we came back and I looked around at the roomful of missionaries and all I could feel was, I'm no longer apart of this group. I'm disqualified.  I felt the sadness of a dream that slipped away, and I can still hardly understand how it happened so fast.
But in the midst of the sadness I spent four days with this church who'd committed to support us, who expected great things with us, and I'm here to tell you that all I felt this weekend was love.
I felt the hugs, the kind eyes, the hand squeezes.  I felt, deep in my heart, the fervent words: I'm just so glad you're all better now, honey.
I felt the wonder of brand new faces: You don't know me but I've prayed for you these last three years.  I read every one of your email updates.
I felt the healing gift of getting to share our stories of South Asia with lots of different people who genuinely wanted to know.  They had dozens of questions.  They wanted advice on how to befriend South Asians in their workplaces and in their neighborhoods.
It was because of this outpouring of love that in my sadness I also felt hope.  On Saturday I sat across the table from the missions pastor and could hardly lift my head to look him in the eye, and his words, "We're committed to you guys, the 'where' isn't so important to us," washed over me like a blessing.
There's a new dream in our hearts, and this was also a weekend of sharing and rejoicing in the new dream.  This church isn't moving on without us.  Nope, they're ready for the new direction, they're cheering us on as much as ever.
This is the body of Christ at its best and I feel humbled and honored to be apart of it.
And now, a day of rest, a day of laundry and naps and repacking suitcases, and tomorrow we hit the road again.
Can you do something for us?
Will you pray for our family this week? David and I head to Atlanta tomorrow morning for four days of meetings that are definitive for our next step in ministry. Will you pray that we'll have peace, that we will be free to be ourselves? And will you pray for wisdom for the folks that will be meeting with us?
Thank you. I know so many of you are praying faithfully for us through this whole busy season of transition and travel, and we feel your prayers each day.  God is using you and we are encouraged.
Judah and Amelie will spend this week with Shari and with my parents. They are so excited ("You mean, we get to go to Nina and Papa's house without you!!??"). Pray that God keeps them safe while we're apart.
Thank you, dear friends.